MLB All-Star Game red carpet rankings: Highlighting the game's best dressed
It is once again that time of year when we pool our vertical's collective fashion-obsessives, put on our ranking hats and wait for the handful of "I don't care about this" comments to populate below. Here's the thing, though: We care about this. In a season that saw baseball attempt to reinvent itself with new rules and make a concerted effort to appeal to a younger — and more global — fan base, one thing has become clear. Marketing the game and its players well is an important element of the league's growth strategy and the long-term health of the sport.
So while it may pain some of our readers to see a ranking of well-dressed baseball men (and it's not too late to turn back now!), these guys were practically made to look cool in clothes, and ignoring that would be borderline journalistic malpractice. Just think of this as us doing our part as we highlight the league's biggest names and personalities flexing their sartorial chops on a major stage.
And while it was not easy to narrow our list of favorites down to just 10, we — The Athletic MLB editors Kaci Borowski, Lauren Comitor and Kamila Hinkson, with a guest appearance by national writer and resident GM Jim Bowden — tried our best and also handed out some extra awards to those who truly impressed. Here are the looks we liked the most.
---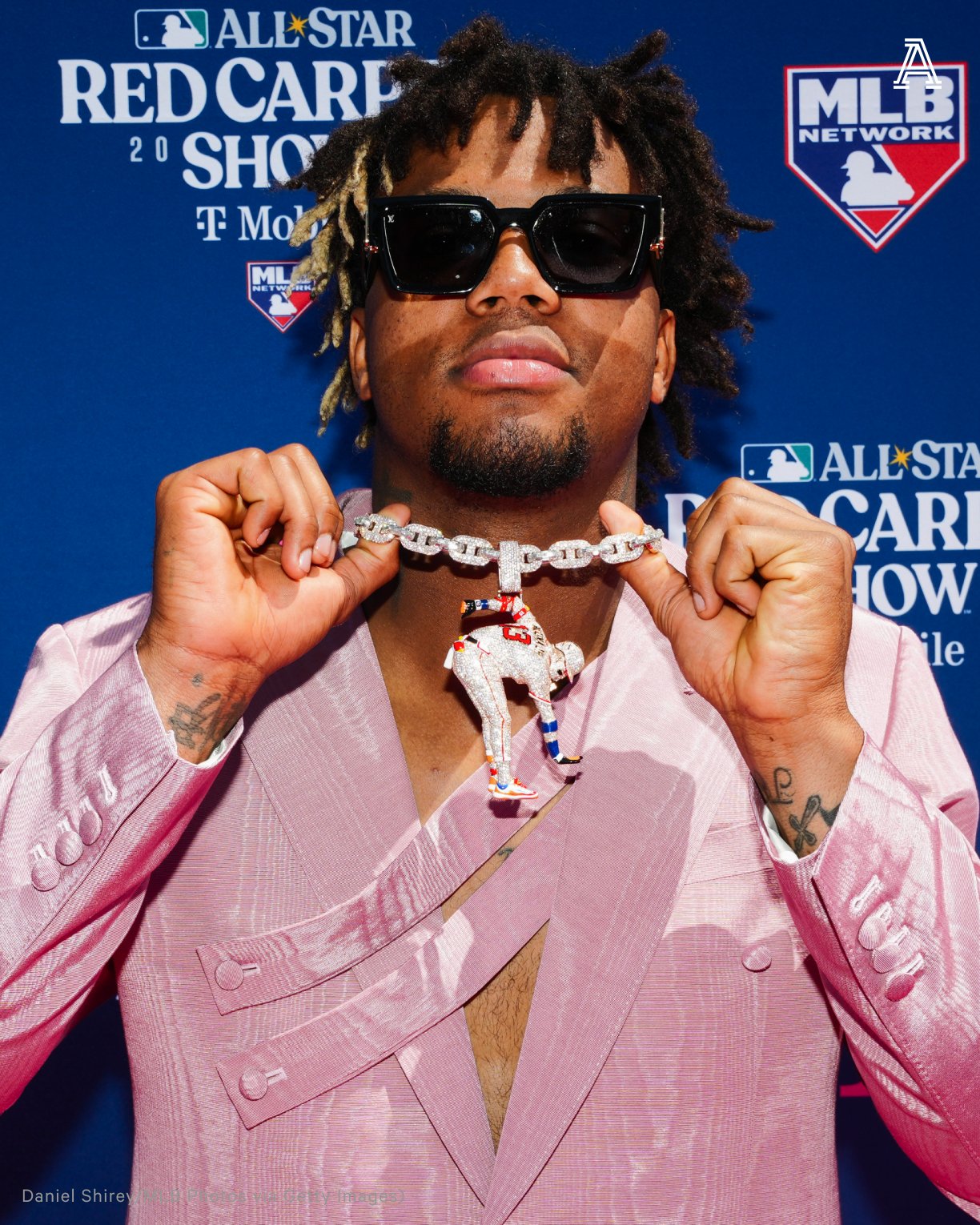 too small . pic.twitter.com/vA5TdJ00LU

— Ronald Acuña Jr (@ronaldacunajr24) July 11, 2023
The first glimpse I caught of this outfit was while he was lingering in the background of a live interview on the red carpet and I already knew. I couldn't see much beyond the straps across the lapel and the bubblegum pink color but whoever it was, it was already a lock that he was going on the list. The fit on this thing is incredible and it's so thoughtfully designed — it's both pretty and punchy, elegant and irreverent all at the same time. The necklace made me laugh out loud. MVP stuff!  — Kaci Borowski
Everything about this is fire. The color. The way it shimmers in the light. The cut. The👏🏿 Neck👏🏿 Lace👏🏿. He did not disappoint. — Kamila Hinkson
The bubblegum pink is always a winner (see: Santiago Espinal last year), and the layered strap detail on the suit — plus how cohesive it looks with his date's dress — is lovely. The necklace is great on its own, but the fact that his son was sporting a miniature version really stole the show. — Lauren Comitor
This was my No. 1 outfit on the red carpet. Ronald looked great in the pink custom suit with unique straps in front and dangled a fly necklace of himself, but also gets points for matching with his wife. — Jim Bowden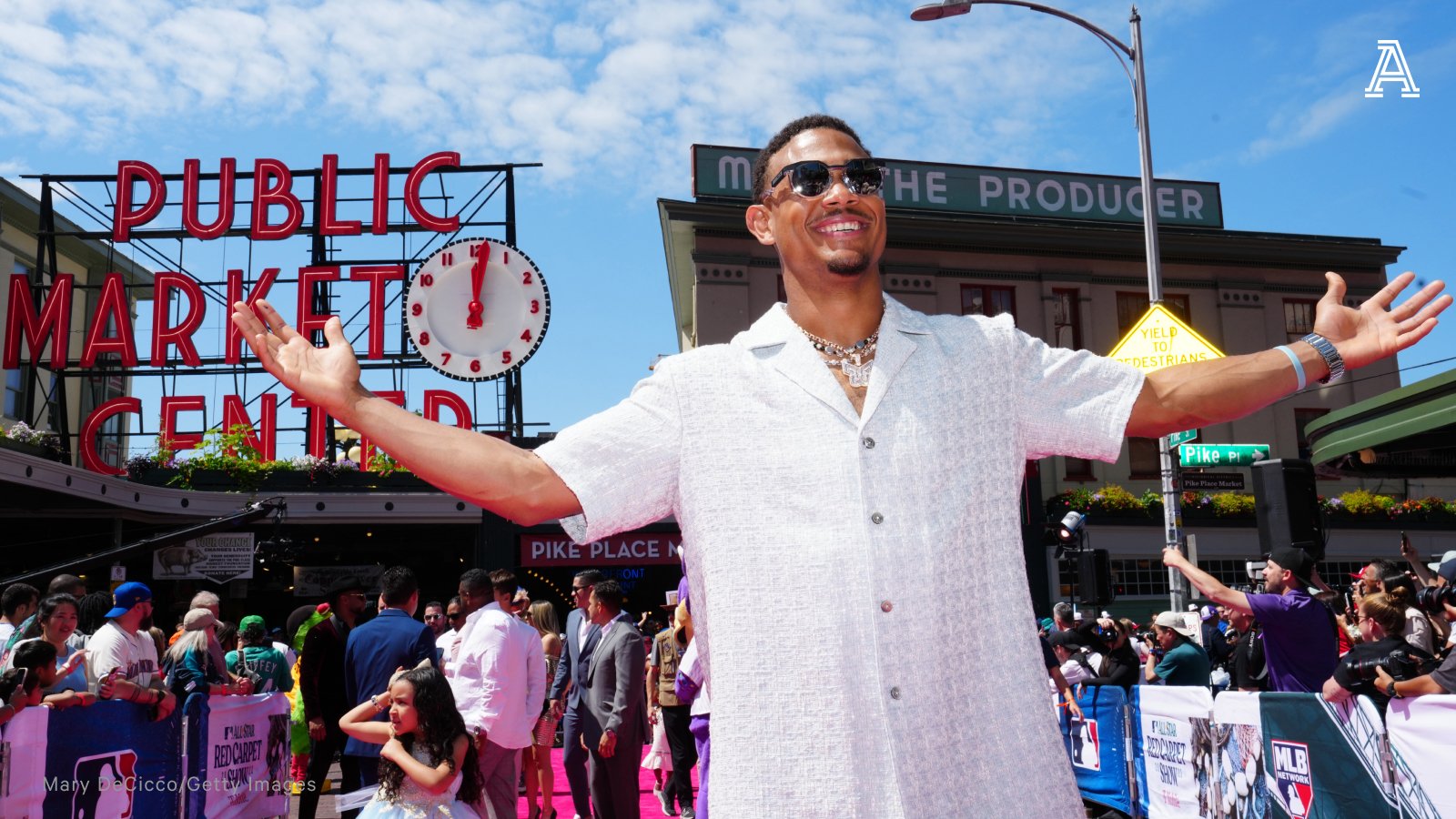 Perfect fit. No notes. pic.twitter.com/xnzzozuohT

— Seattle Mariners (@Mariners) July 11, 2023
Julio knows what works for him. Last year, we gave him major credit for showing up on the red carpet in a pair of silky gray separates that felt like the coolest formal pajamas imaginable. Now he's back with another neutral-toned kit, this time in a very-on-trend woven pattern. The jewelry is fun and a little bit unexpected and the energy is unmatchable. A hometown hero! — KB
This is Julio's moment, and he's dressing like it, too. He may not have won the Home Run Derby, but this look is a winner to me. The textured set just oozes cool, and the detail on the sunglasses perfectly tops it all off. — LC
Icy 🥶 pic.twitter.com/Nx7y6ESpxt

— Chicago White Sox (@whitesox) July 11, 2023
Bless Luis' right calf for not acting up so much that he couldn't walk the red carpet because, lord … we deserved to see this outfit. — KH
A black suit isn't always the most exciting, but the no-shirt look is the perfect way for Luis to show off that bling. The watch alone is blinding! — LC
What I like about this is it's simple but sharp. The proportions are great, the sunglasses are clean … it feels like an elevated, updated version of the Miami Vice aesthetic. Relaxed enough for a daytime red carpet but polished enough to meet the moment. — KB
Is white the absence of color? Is black the absence of color? Don't ask me, I barely passed high school physics. But as someone who generally enjoys looks that employ bright colors, this combination easily caught my eye. Could that jacket fit him any better? He looks downright dashing. – KH
Nolan's red carpet evolution over the years is impressive, and he's really stepped up his game. While I don't love the color combo, I have to appreciate the sharp accessories that add to this breezy, cool look. — LC
Your ace could never. pic.twitter.com/ne0VvQMGDQ

— Arizona Diamondbacks (@Dbacks) July 11, 2023
.@athomas22 = the @Dbacks fashion 🔌@zacgallen23 chatted with @RoFlo & @CY24_7 on the @TMobile Red Carpet. pic.twitter.com/POafCp2NJY

— MLB Network (@MLBNetwork) July 11, 2023
Given the location of this year's All-Star Game, it was probably a little hard for players to know exactly what to wear. Unlike places like L.A., Miami and New York, there's not an obvious template for the energy and aesthetic of the event. That became clear when looking at the variety of looks we saw come down the red carpet — some players went formal or flashy while some played it cool and casual. Zac did a little of column A and a little of column B, to great success. The color palette is sharp, the fit is nice, the Gucci sweater is a highlight, and most importantly, he seems to have had some fun putting it all together. "I had the vision," he said when asked about the look. We love to see it. — KB
Did I say this in the ranking group chat?
Yes. Did I mean it? I did. Do I like Adley's gold brocade-inspired suit? I don't know! But he looks super confident in it, and that's the most important thing. This is the exact right moment for a big swing and our guy took it (and then probably switched to the other side and did it all over again). He looks at ease in this and it helped him stand out from the crowd. All in all, a respectable fit! — KB
Do I like this pattern? Not really. Do I respect the hell out of a young star stepping out of his comfort zone and wearing something like this to his first ASG red carpet? One hundred percent. — KH
Look, we can all agree Adley did something very cool Monday night during his Derby appearance. Did that translate to the red carpet? I'm honestly not sure! He's *trying* to have swag. Does that mean he has swag? Not necessarily! But it counts for something. — LC
Third place of the night for me — a classy look with the off-white and gold blended through it. — JB
Luis' patterned suit manages to be subtle but still pops thanks to the pretty plum color. And, of course, tiaras FTW! — LC
The mandarin collar here is such a nice touch — it helps keep things simple and allows for the pattern on the suit to shine. — KB
I'm a sucker for velvet, so naturally, I love Freddie's sharp suit. People should be wearing more velvet (OK, maybe not in the summer, but still)! — LC
I didn't know it was possible to make Freddie look even leggier than he is naturally, but here he is proving that a fitted monochrome look can help lengthen your proportions, even if you're already 6-foot-5. — KB
.@mookiebetts is mic'd up for the Bottom of the 1st! 🎙

Earlier today, he brought some 🔥 to the @TMobile Red Carpet! pic.twitter.com/ao6OMKdyKk

— MLB Network (@MLBNetwork) July 12, 2023
While he looks great, I am a little sad that Mookie accidentally left the hat at home. It really would have helped complete the look. — KB
We love a statement jacket! Mookie's look is simple yet stylish. — LC
Honorable mentions
Best business model: Shohei Ohtani
Shohei Ohtani during his photoshoot on the Red Carpet #AllStarGame pic.twitter.com/owR2vMP5CB

— MLB Life (@MLBLife) July 11, 2023
It seems Shohei is a fan of a monochromatic look. Last year, the color of choice was green. This year it's … grey. The man looks great even while eating Funyuns at the back of a bus but here's hoping next year he goes with something that's a little more fun. — KH
Does Shohei look good? Yes (always). Does Shohei look like he's going to try to sell me something at a conference of some sort? Also yes. (I'm buying!) That doesn't mean we love him any less. — LC
The classiest look of the night. — JB
Most on-brand: Lourdes Gurriel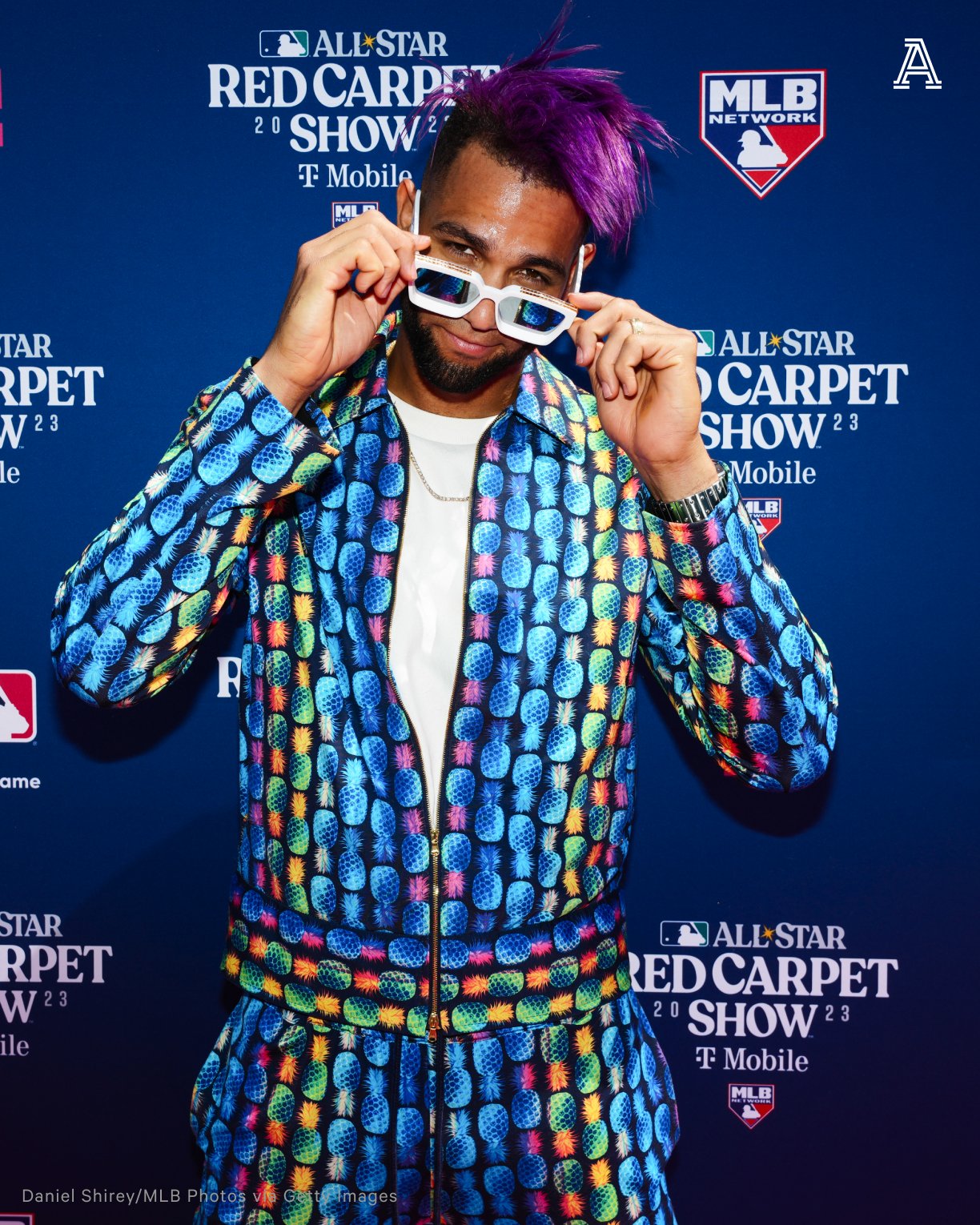 Is this stylish? No. But it's shiny and it's loud and you can't miss it, so, of course, I absolutely loved it. And then I realized the pattern is made up of pineapples. You know, as in piña power — Lourdes' hairdo-inspired motto. A family of lil piñas? An outfit I can't stop staring at and that makes me laugh out loud? Yes, please. — KH
This was the wildest look of the night — way too over the top. — JB
Most tactile: Vladimir Guerrero Jr.
How we feeling about Vladdy Jr.'s Red Carpet fit? 👀🔥 pic.twitter.com/a61gkn97Td

— MLB Life (@MLBLife) July 11, 2023
This is pretty wild but the handiwork on this is incredible. We respect the big swing! — KB
A close second for me as the best look of the night and everybody wanted to pet it. — JB
Best flow: Bo Bichette
Who else could've won this award? Bo's hair is always a vibe, but the sunglasses and silk shirt really put this look over the top. — LC
---
And we would be remiss if we didn't highlight all of the incredible family looks that graced this year's red carpet. There were too many great ones to include, but here is a collection of some we loved, from baseball's tiniest stars.
Little League
Cristopher Cano
Orioles pitcher Yennier Cano on the Red Carpet with his son 🥹😂 #AllStarGame pic.twitter.com/u7tdTCvKWy

— MLB Life (@MLBLife) July 11, 2023
Baby Cristopher is either going to find this photo hilarious or totally embarrassing in 15 years. There is no in-between. — KH
The Arcia twins
HELLO ARCIA TWINS ❤️❤️ pic.twitter.com/sxZCGiUzwn

— All-Star Brewper (@BlooperBraves) July 11, 2023
I need these sunglasses in adult size very, very badly. — KB
The Coles
#AllStarGame Festivities with The Cole Family ✨ pic.twitter.com/7cis7D22Ak

— New York Yankees (@Yankees) July 11, 2023
The Jansens
Could the Jansens look any better? The pistachio shade is really nice, and I love how the kids look cohesive with different variations of the same designer pattern. — LC
I can't get over how camera-ready every single person in this photo is. This really needs to be their holiday card this year. — KB
The Heims
I love a good color-coordinated (but not matchy-matchy) family look, and the Heims pulled this off perfectly. — LC
Additional Reading
(Top photo of Ronald Acuña Jr.: Matthew Grimes Jr. / Atlanta Braves/Getty Images)
Related Posts