Most Expensive Jewellery Pieces Sold at Auction
History is witness to several instances of people buying and commissioning exquisite jewellery that adorn their personal collections. Such is the fascination that these connoisseurs purchase rare gemstones and iconic riches that involve bidding in millions at auctions. Interestingly, the number of most expensive jewellery pieces sold at auction has seen an unprecedented surge.
When nature's marvel is coupled with man's artistry, it yields magnificent pieces that are sold at sky-high prices at reputable auction houses. From glittering earrings to dazzling neckpieces and rings, these iconic jewellery pieces mostly revel in the rarity of the rock, the history behind it and the excellent craftsmanship involved.
Here are some of the most expensive pieces of statement jewellery ever sold at an auction
Oppenheimer blue diamond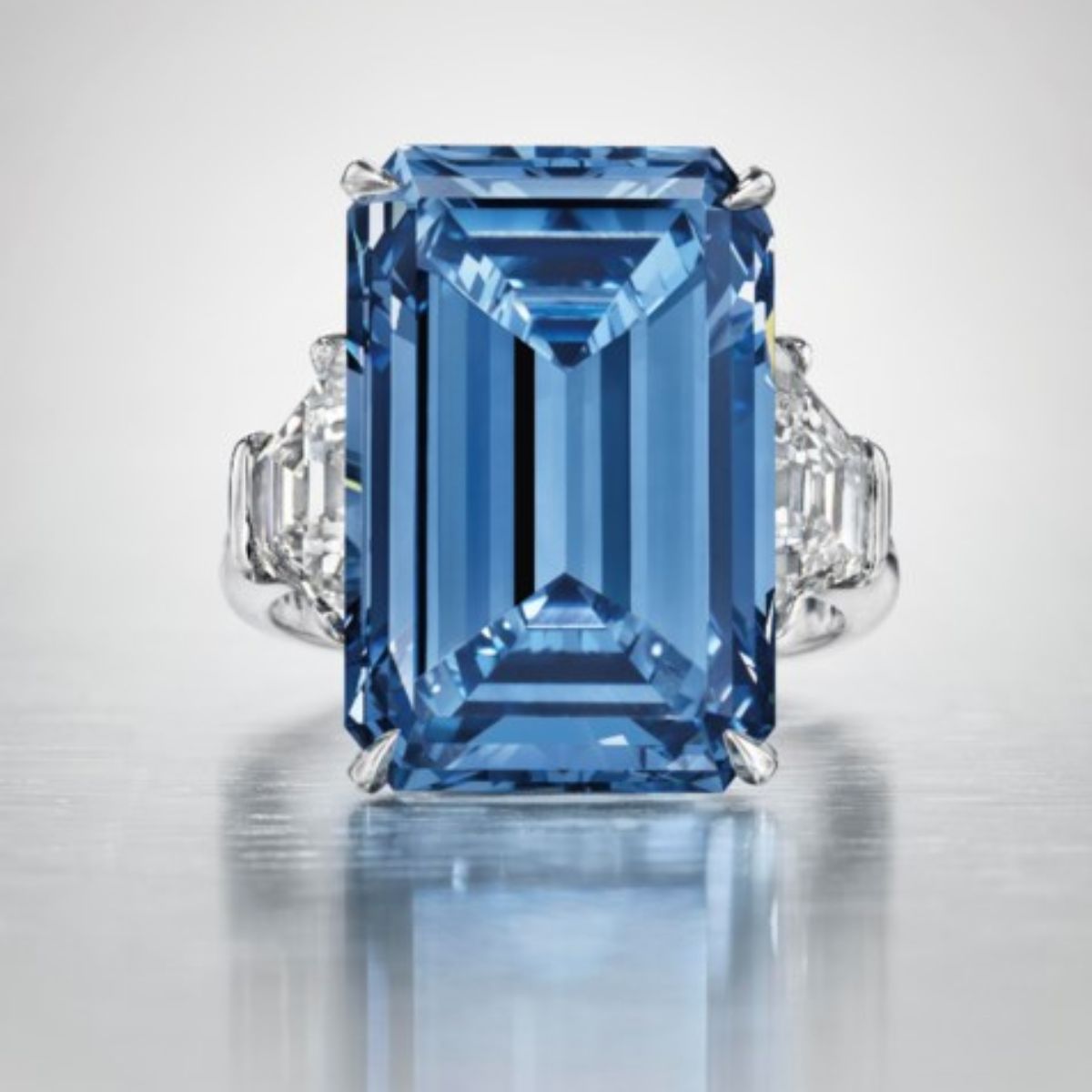 Sold by: Christie's, 2016
Realised Price: USD 57.6 million (at the time of the auction)
Taking after the elite diamond-mining Oppenheimer family headed by Philip Oppenheimer, who once owned it, the Oppenheimer Blue diamond is the largest Fancy Vivid blue diamond ever to be sold by an auction house.
While its nearly 14.62-carat weight may sound small among the other expensive jewels ever sold at auctions, this vivid blue diamond is even rarer than the pink diamond, which makes them a prized possession.
The diamond was auctioned in 2016 in Geneva and at that time became the most expensive jewel sold by the house, a record once held by the Blue Star of Josephine diamond. The rectangular cut-stone gem reportedly originated from South Africa. The dazzling 'Eight Blades' carefully sits between two smaller rocks on a platinum ring created by Verdura.
Memory Of Autumn Leaves and Dream Of Autumn Leaves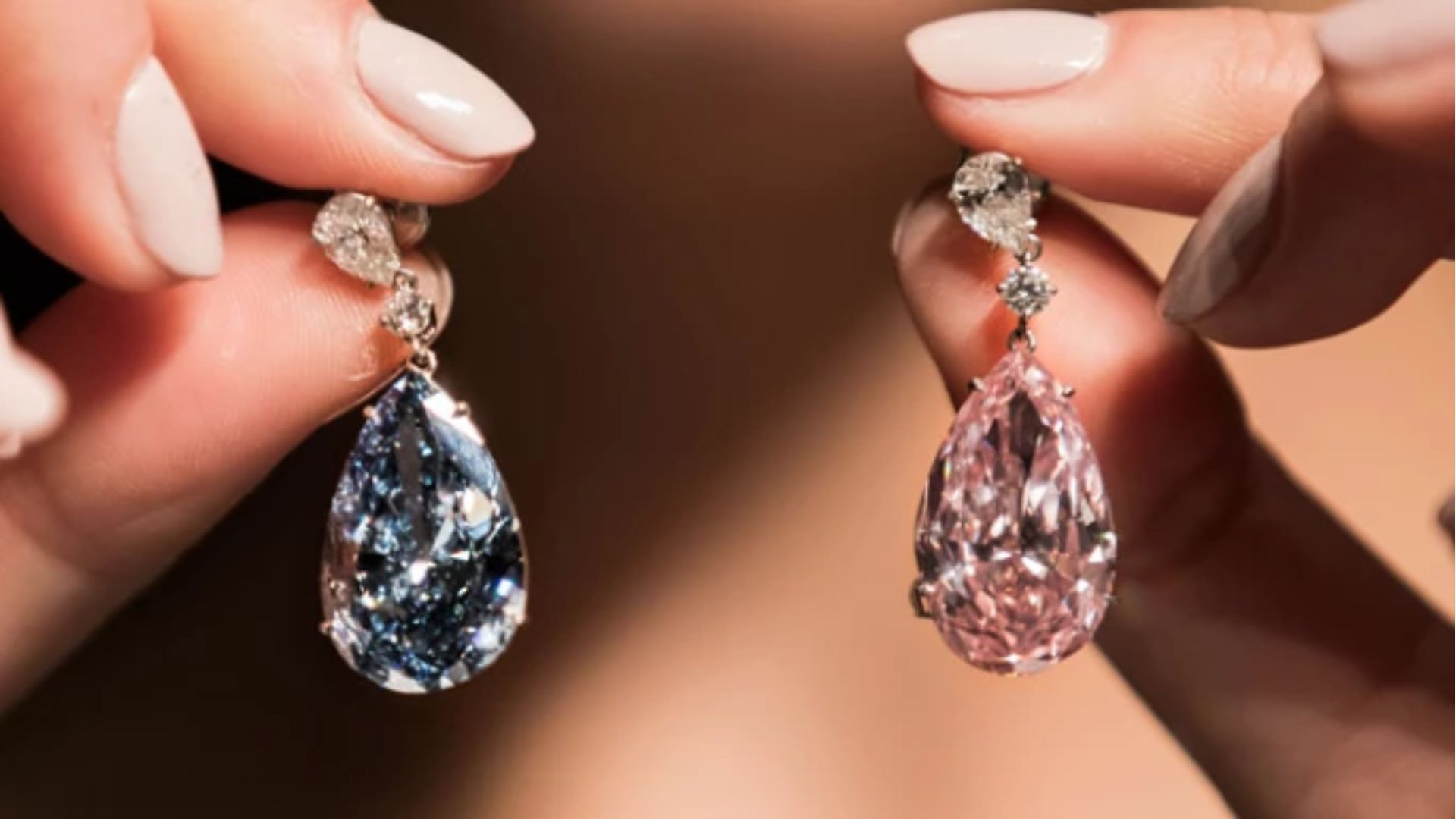 Sold by: Sotheby's, 2017
Realised Price: USD 57.5 million (at the time of the auction)
In 2017, Sotheby's unveiled two of the most exquisite and expensive jewellery pieces sold at an auction in Geneva. The diamonds, Apollo and Artemis, were then rechristened The Memory of Autumn Leaves and The Dream of Autumn Leaves and are a collection of two gems — a 14.54-carat, blue, internally flawless Type II B diamond and a VVS2-clarity, Type II A pink diamond weighing 16 carats.
The two are converted into a pair of earrings and are offered separately for their extremely rare nature. They both were sold together for a whopping amount and became the most expensive pair of earrings sold at auction.
Winston Pink Legacy
Sold by: Christie's, 2018
Realised Price: USD 50.7 million (at the time of the auction)
The 18.96-carat pink diamond was auctioned in Geneva. The Gemological Institute of America (GIA) has also certified it to be a Fancy Vivid pink diamond — the highest grade to be given to coloured diamonds, depending on the even colour saturation, clarity and size. "Only one in 100,000 diamonds possesses a colour deep enough to qualify as 'Fancy Vivid'," mentions the auction house.
The rare dainty stone initially belonged to the Oppenheimer family, who run the De Beers, before Harry Winston Inc, bought the diamond ring. The auction set a new bar for per-carat-rate for such coloured diamonds and it made overnight global news.
The pink diamond, mined in South Africa, rests amidst two diamonds in a platinum ring and is christened after its new owners.
Graff Pink diamond ring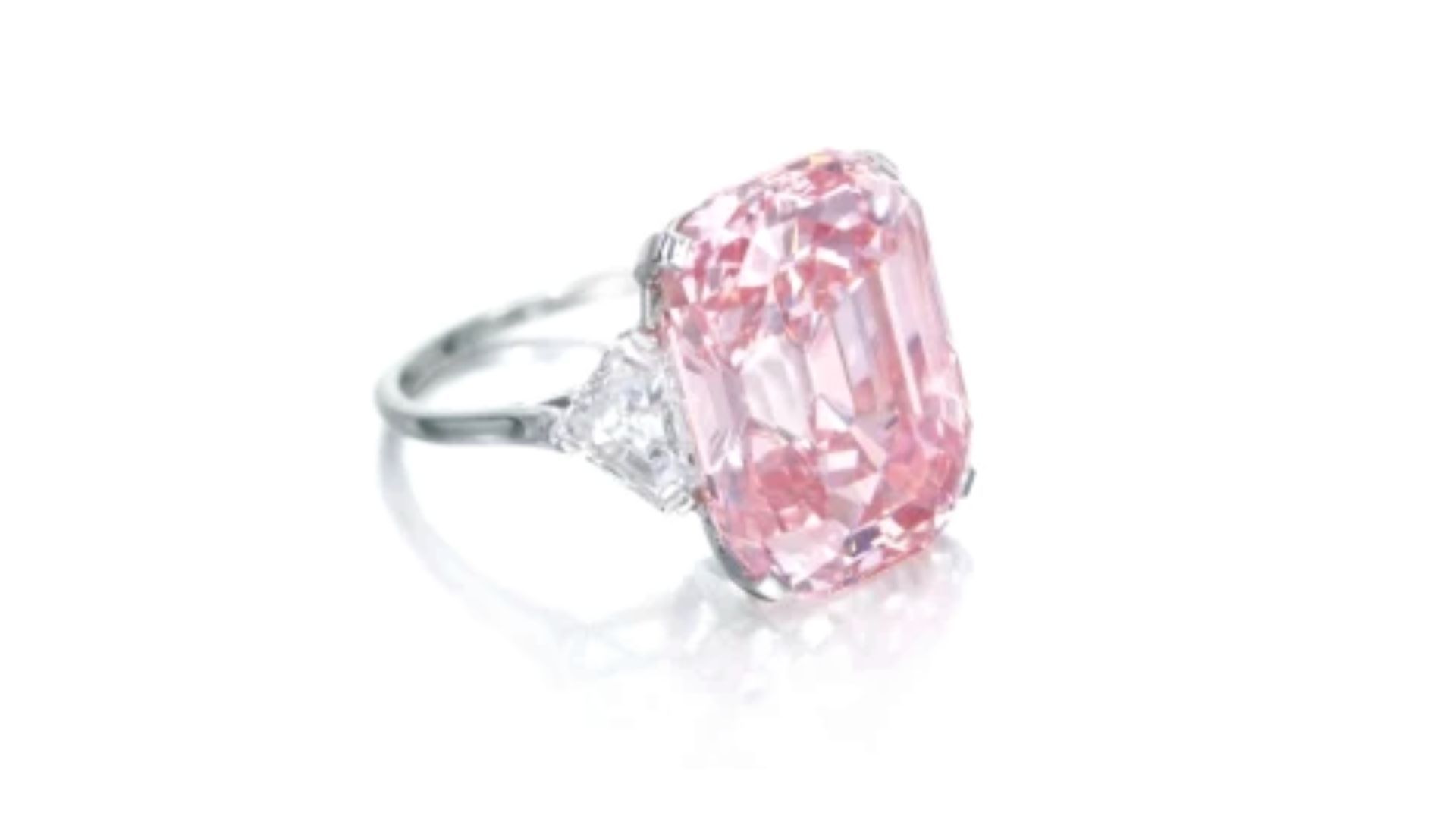 Sold by: Sotheby's, 2010
Realised Price: USD 46.2 million (at the time of the auction)
Flaunting an eye-popping intense pink colour, the Graff Pink was once owned by British billionaire jeweller Harry Winston. He later sold the rare Type IIa gem to a private collector in 1950.
This stunning gem is essentially a Fancy Vivid round-cornered, emerald-cult gemstone weighing a staggering 24.78-carat. The diamond, which now sits on a platinum ring with two other diamonds on either side, is now owned by British jeweller Laurence Graff, who purchased it at the Sotheby's Geneva auction and gave it its current name.
Queen Marie Antoinette's pearl and diamond pendant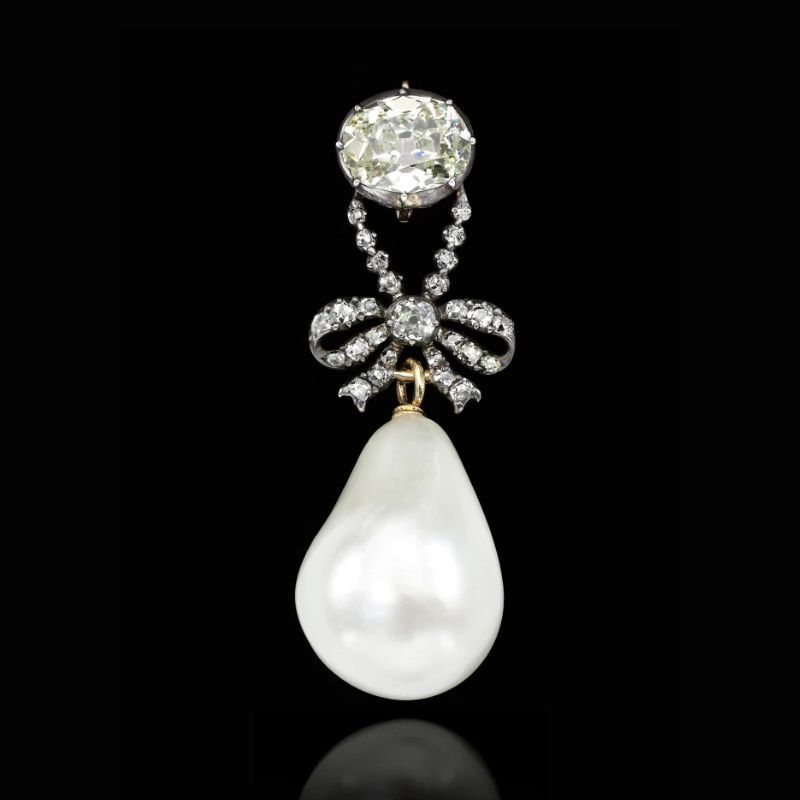 Sold by: Sotheby's, 2018
Realised Price: USD 36.2 million (at the time of the auction)
An epitome of grace and beauty, France's Queen Marie Antoinette is also known for possessing a grand chest of magnificent jewels. And one such ageless item is this pearl and diamond pendant. The large natural pearl is suspended from a diamond bow pendant and was initially part of a three-strand necklace.
Flaunting historical provenance, the 18th-century pendant was sold in Geneva as part of the auction of the Bourbon Parma family jewellery. In 1791, when the King and Queen prepared to leave the Palace of the Tuileries to escape the revolutionaries, her precious jewels, including this piece, were packed and sent to the Emperor of Austria who was Antoinette's nephew. Much later, the expensive jewel collection was handed over to the Queen's only living child, Marie-Thérèse de France, who then gave a portion of it to her niece, the Duchess of Parma.
Sold to an anonymous bidder, the pearl and diamond pendant is one of the most expensive jewellery pieces sold by auction houses. It set a record price for a natural pearl and was the highlight of the show in Geneva where other jewels of Queen Marie Antoinette were also sold.
De Grisogono necklace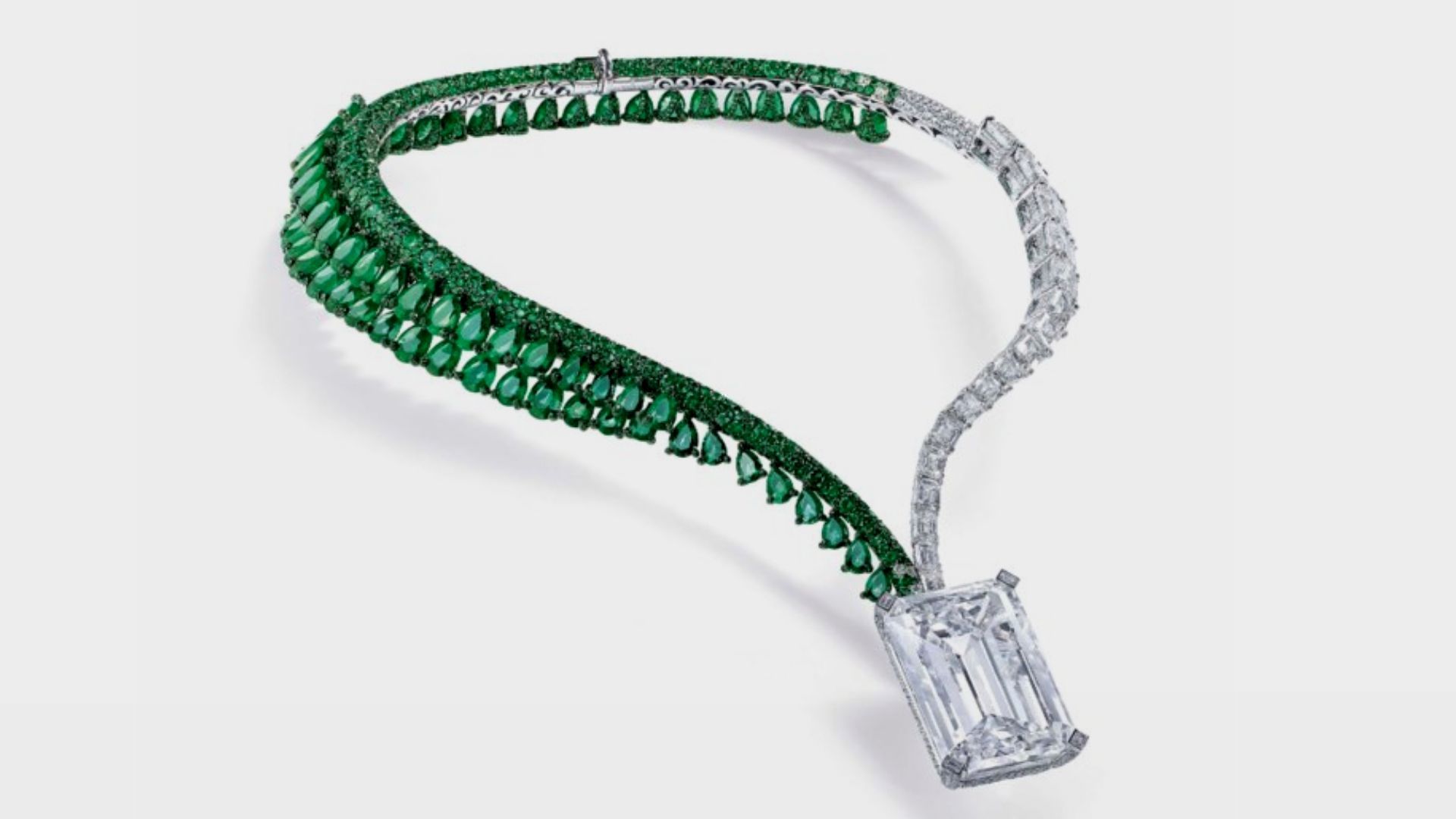 Sold by: Christie's, 2017
Realised Price: USD 33.7 million (at the time of the auction)
In 2017, auction house Christie's joined hands with luxury Swiss jeweller De Grisogono, and the result is a collection of exquisite pieces. The crown of the lot is this emerald and diamond necklace, featuring a massive 163.41-carat rock.
The Type II A expensive diamond is actually crafted from an even larger 404.20-carat rock, which was mined in eastern Angola's Lulo mine in 2016. The gem is carefully incorporated into an asymmetric necklace, lined with 18 smaller emerald-cut diamonds on one side. On the other are two rows of pear-shaped and brilliant-cut emeralds of various sizes, forming a lucidly curved silhouette.
The diamond is the 27th largest of its kind in the world and was lapped up by an anonymous buyer at the Geneva auction.
Hutton-Mdivani Jade necklace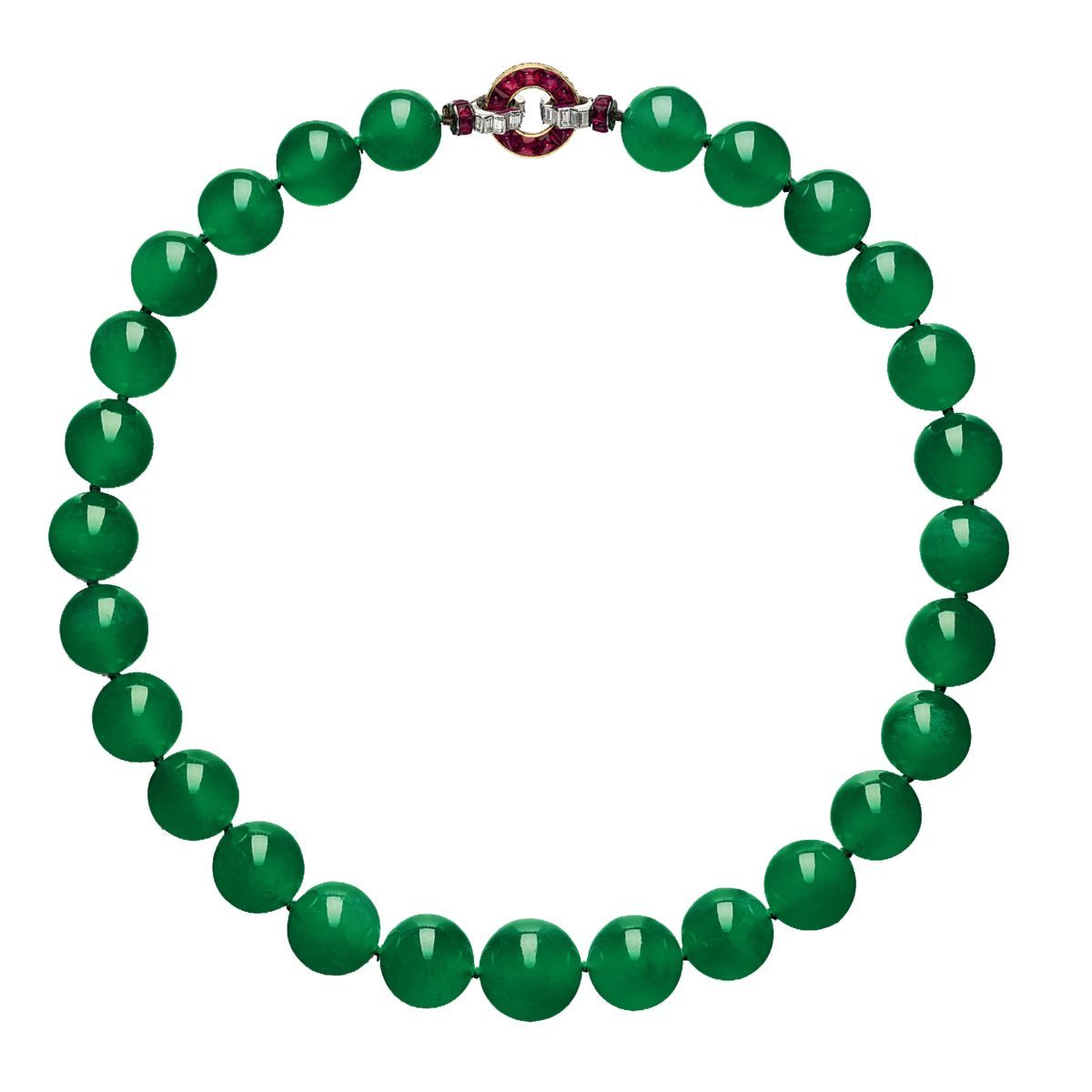 Sold by: Sotheby's, 2014
Realised Price: USD 27.4 million (at the time of the auction)
The jadeite bead, ruby and diamond necklace fetched a record-breaking price at the time of the Sotheby's Hong Kong auction where it was sold to The Cartier Collection.
At the time, the sale created a world record as both a Cartier piece and a jadeite jewel. Labelled as the "greatest jadeite bead necklace of historical importance" by the auction house, the necklace comprises 27 graduated jadeite beads of "highly translucent bright emerald green colour, completed by a clasp set with calibré-cut rubies and baguette diamonds, mounted in platinum and 18 carat yellow gold." The piece is nearly 530 mm in length, unsigned.
The iconic piece of jewellery was gifted to Barbara Hutton — one of America's richest heiresses — by her father when she married her first husband Prince Alexis Mdivani in 1933. The necklace first appeared for auction in 1988 and fetched a whopping USD 2 million.
Six years later, this was followed by a sale of USD 4.2 million. It also holds an impressive provenance and was previously held by Louise Van Allen and Princess Nina Mdivani.
Blue Belle of Asia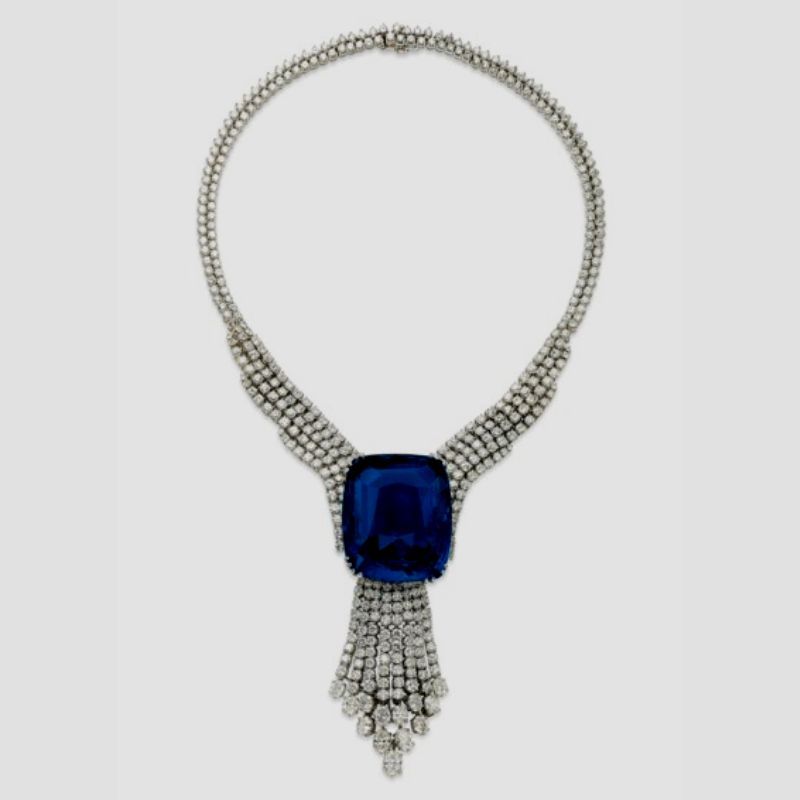 Sold by: Christie's, 2014
Realised Price: USD 17.3 million (at the time of the auction)
Although less in number, blue sapphires are known to exist in extremely high personal collections. And among them, those weighing over 350 carats are rarer. Therefore, the rich Blue Belle of Asia, weighing 392. 52 carats, is a priceless possession.
The fourth-largest blue sapphire in the world, this rock was unearthed in Sri Lanka (then Ceylon) in 1926. In its long journey, the rock changed hands from gem and jewellery dealer Macan Markar in Colombo to British motor magnate Lord Nuffield, the founder of Morris Motors Limited.
In 2014, it went under the hammer as the centrepiece of a brilliant-cut diamond tassel pendant with oval-shaped diamond terminals attached to a brilliant-cut diamond neck chain. The entire piece is mounted on gold.
What makes this such an expensive jewellery piece is the sapphire's 'highly prized peacock blue colour and excellent clarity,' says the auction house.
Henckel von Donnersmarck Tiara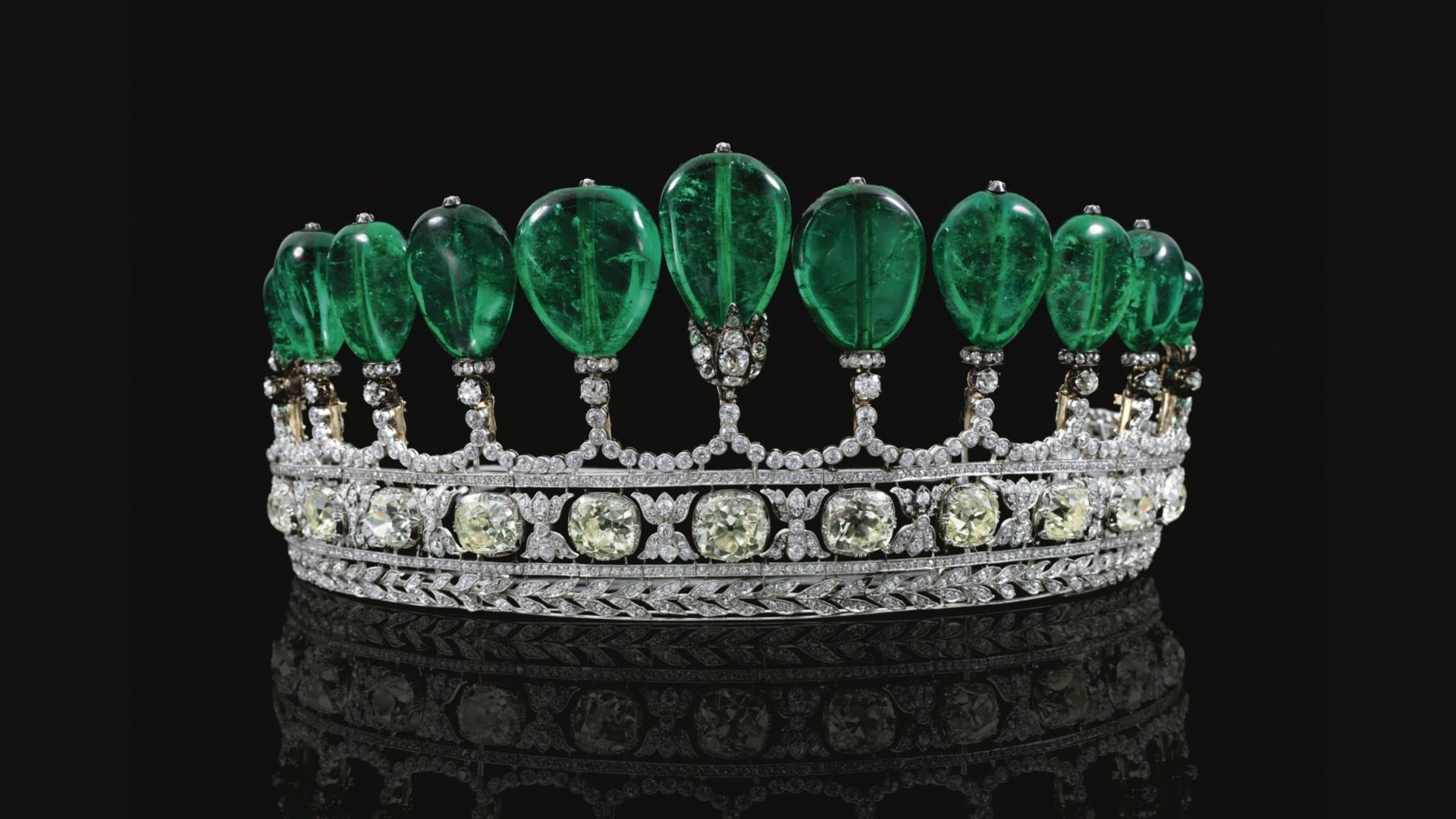 Sold by: Sotheby's 2011
Realised Price: USD 12.6 million (at the time of auction)
A gorgeous emerald and diamond tiara, dating back to circa 1900, was the highlight of the Sotheby's Geneva auction. The stunning headpiece has a string foliate and floral inspiration and is composed of 11 rare Columbian pear-shaped emeralds (weighing a total of over 500 carats). They sit on a row of 11 larger cushion-shaped diamonds and another row of diamond laurel leaf motifs. The millegrain detailing and muguet design on the base accentuates the overall look of this exquisite piece.
The tiara was commissioned by Guido, Count von Henckel, First Prince von Donnersmarck, for his second wife, Princess Katharina, and is believed to have been made by either French jewellery house, Boucheron or Chaumet.
The emeralds also hold historical significance and are believed to be a part of the personal collection of Princess Eugenie, wife of French Emperor Napoleon III and have also adorned the neck of an Indian maharaja.
La Peregrina necklace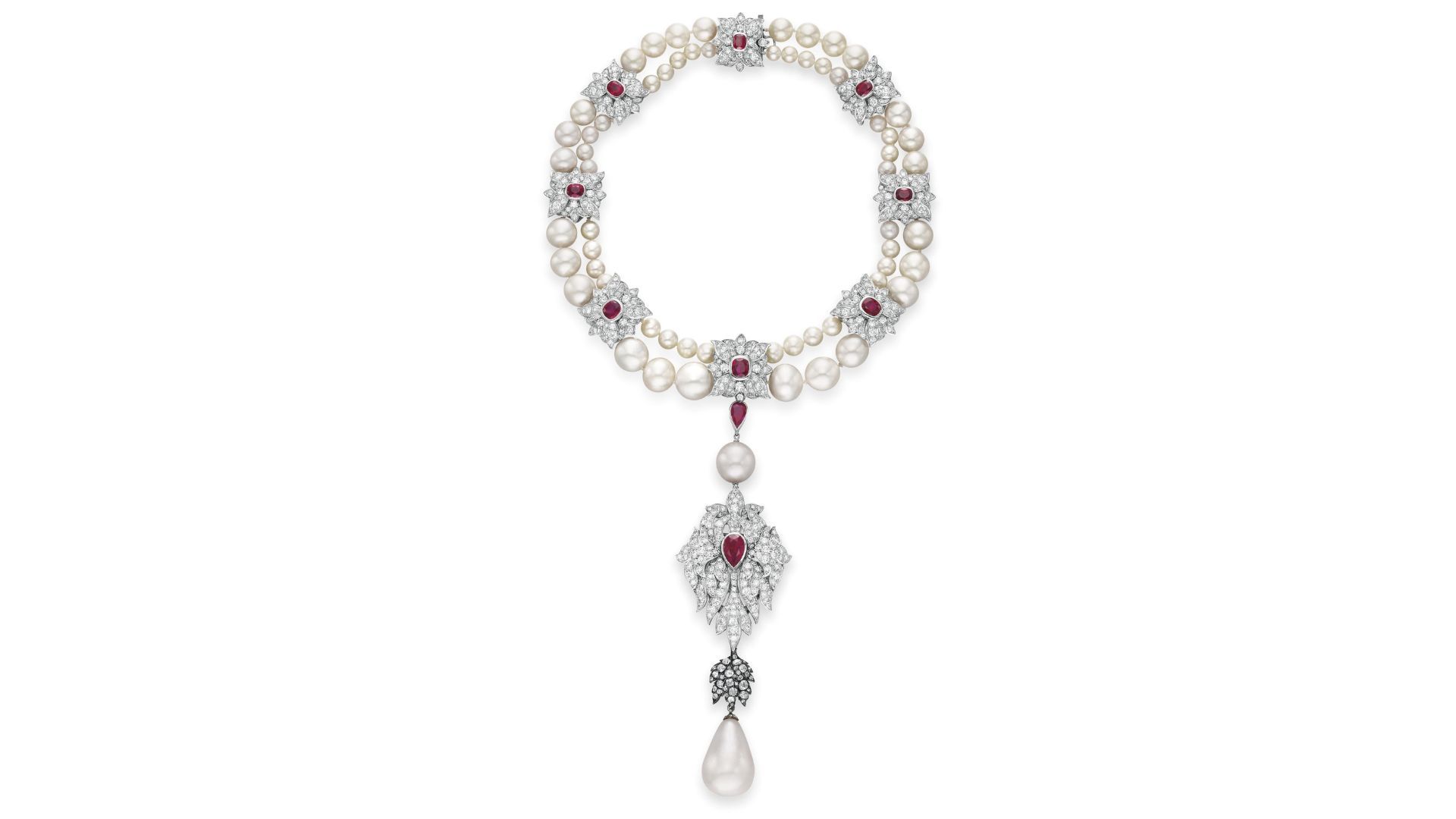 Sold by: Christie's, 2011
Realised Price: USD 11.8 million (at the time of the auction)
Belonging to the personal collection of one of the most renowned actresses of all time, the late Elizabeth Taylor, this stunning necklace is as iconic as its wearer. And why wouldn't it be? The incredible 50.56-carat natural pear-shaped pearl, weighing 202.24 grains, steals the show.
Designed by luxury house Cartier, this piece of jewellery was a birthday gift to Taylor from Richard Burton and cost USD 37,000 in 1969. The pearl itself has a long history. It, reportedly, changed hands among many Spanish rulers for over 200 years and was owned by Joseph Napoléon Bonaparte, Napoléon Bonaparte's elder brother, before reaching Taylor's excellent collection.
As part of the cultured pearl and diamond necklace, the La Peregrina pearl pendant is suspended from a silver foliate base of old mine-cut and rose-cut diamonds. This structure hangs from "a circular-cut diamond flame motif set with a pear-shaped ruby, spaced by a detachable pear-shaped ruby," reads the description by the auction house.
Another natural pearl acts as a link between the pendant and the two-strand necklace, which is composed of 56 natural pearls and four cultured pearls. These are intersected by eight circular-cut diamond and cushion-cut ruby flame motif plaques, which are placed on platinum and gold.
When the piece was auctioned in New York in 2011, the dangling pearl held the record for the most expensive natural pearl sold at an auction for seven years.
Empress Eugenie bow brooch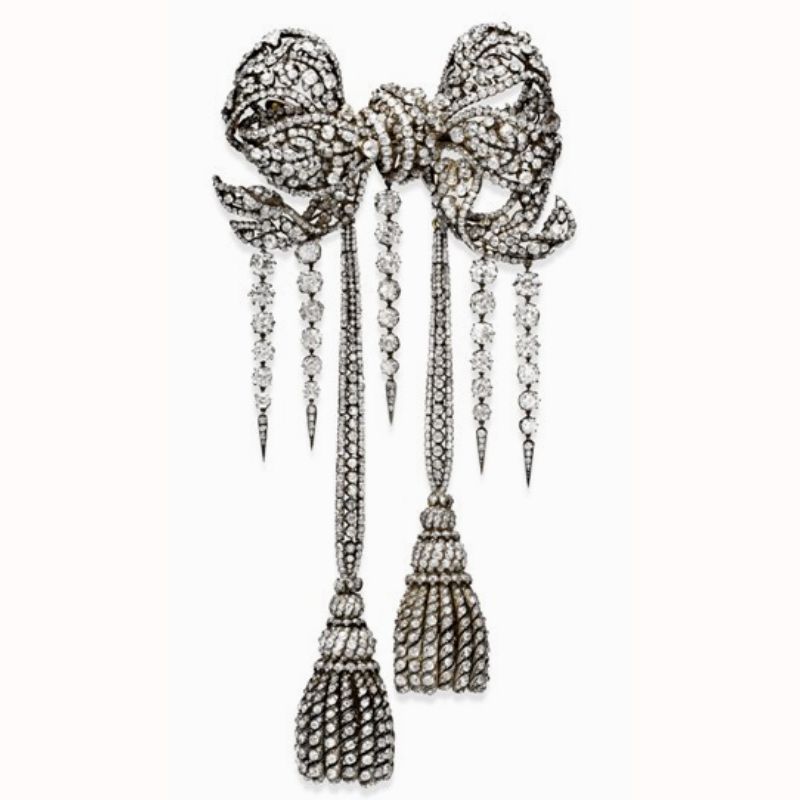 Sold by: Christie's, 2008
Realised Price: USD 10.5 million (at the time of the auction)
This diamond brooch symbolises French artistry and Empress Eugenie's love for ostentatious jewellery. Dating back to circa 1855, the brooch was made by François Kramer, two years after her wedding to Emperor Napoleon III.
The original centre bow structure was later commissioned to be extended by the Empress to become the statement piece that it is today. One of the most expensive jewellery pieces sold at auction, the bow brooch features five diamond fringes and two ornate diamond tassels.
The brooch was one of the many jewels left behind by the royal couple when they were exiled in 1881. When it resurfaced on Christie's auction table in 2008, Henri Loyrette, the then president of the Louvre, made arrangements with the auction house and brought it back to the country to add to the collection of the Louvre Museum.
Rockefeller emerald and diamond ring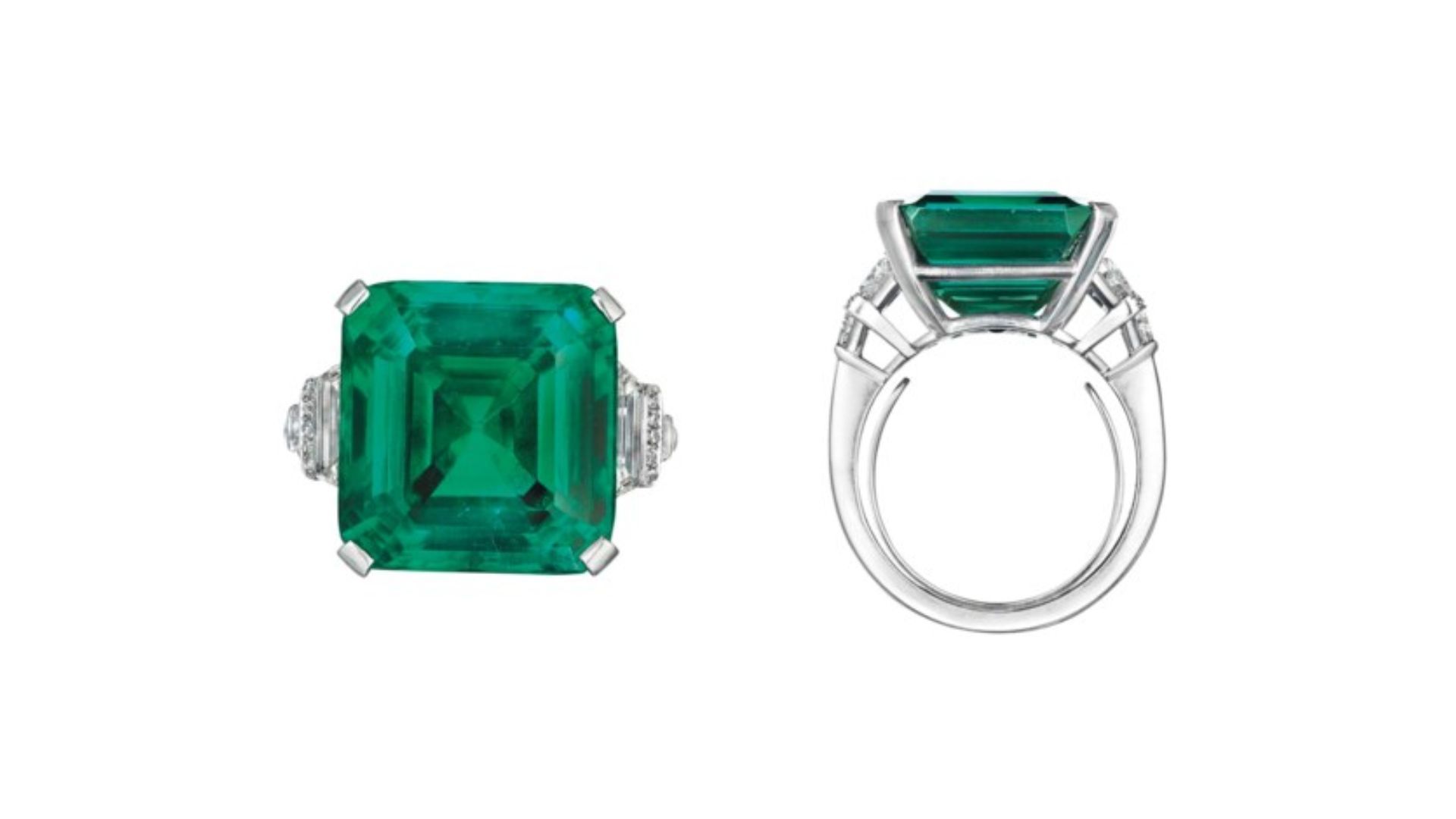 Sold by: Christie's, 2017
Realised Price: USD 5.5 million (at the time of the auction)
Emeralds have always been the choicest gems for royals. Whether it is the European emperors or the Mughal rulers, these stones never fail to fascinate royalty. In 2017, Christie's unveiled an 18.04-carat emerald, which belonged to America's elite Rockefeller family.
After the death of his mother Abby Aldrich Rockefeller, the stone, which was originally set in a brooch, was handed down to her son David as part of family jewels. "The emerald was brought to Raymond C. Yard by David Rockefeller and was mounted as the present ring in 1948," the auction house states on its website.
(Main image credit: Christie's, Feature image credit: Sotheby's)
Related Posts