The most expensive jewels worn on the Oscars red carpet
The Oscars red carpet has long been a showcase of extravagant (and expensive) fashion lore for decades — with each celebrity look being the product of an entire team's painstaking work. And, the fine pieces of jewels worn by stars add a key element of luxury as well as panache to the award ceremony. From Best Actress winner Vivien Leigh wearing French luxury maison Van Cleef & Arpels' aquamarine pendant for the 12th Academy Awards in 1940 to Lady Gaga flaunting her exquisite Tiffany yellow diamond necklace during its 83rd year in 2019, these expensive pieces of jewellery worn by celebrities have truly taken the Oscars a notch higher in glitz and glamour.
Boasting intricate craftsmanship and glittering gemstones, these gorgeous jewels have no doubt made their mark over the ninety-five-year history of the Oscars. The prestigious award ceremony has played host to some of the world's most prominent jewellery brands too, from Bulgari to Tiffany & Co. and Cartier.
Be it Lupita Nyong'o flaunting her Chopard pear-shaped diamond earrings (2022), Charlize Theron donning a Harry Winston diamond cluster pendant necklace (2014) or Caitriona Balfe wearing a snowflake ring and cheval earrings by Van Cleef & Arpels (2022), each look has its own glorious story to tell. And with the 2023 ceremony just around the corner on 13 March, we look back at some of the most expensive pieces of jewellery ever worn by celebrities at the Academy Awards.
The most expensive jewellery worn by celebrities on the Oscars red carpet
Lady Gaga's Tiffany magic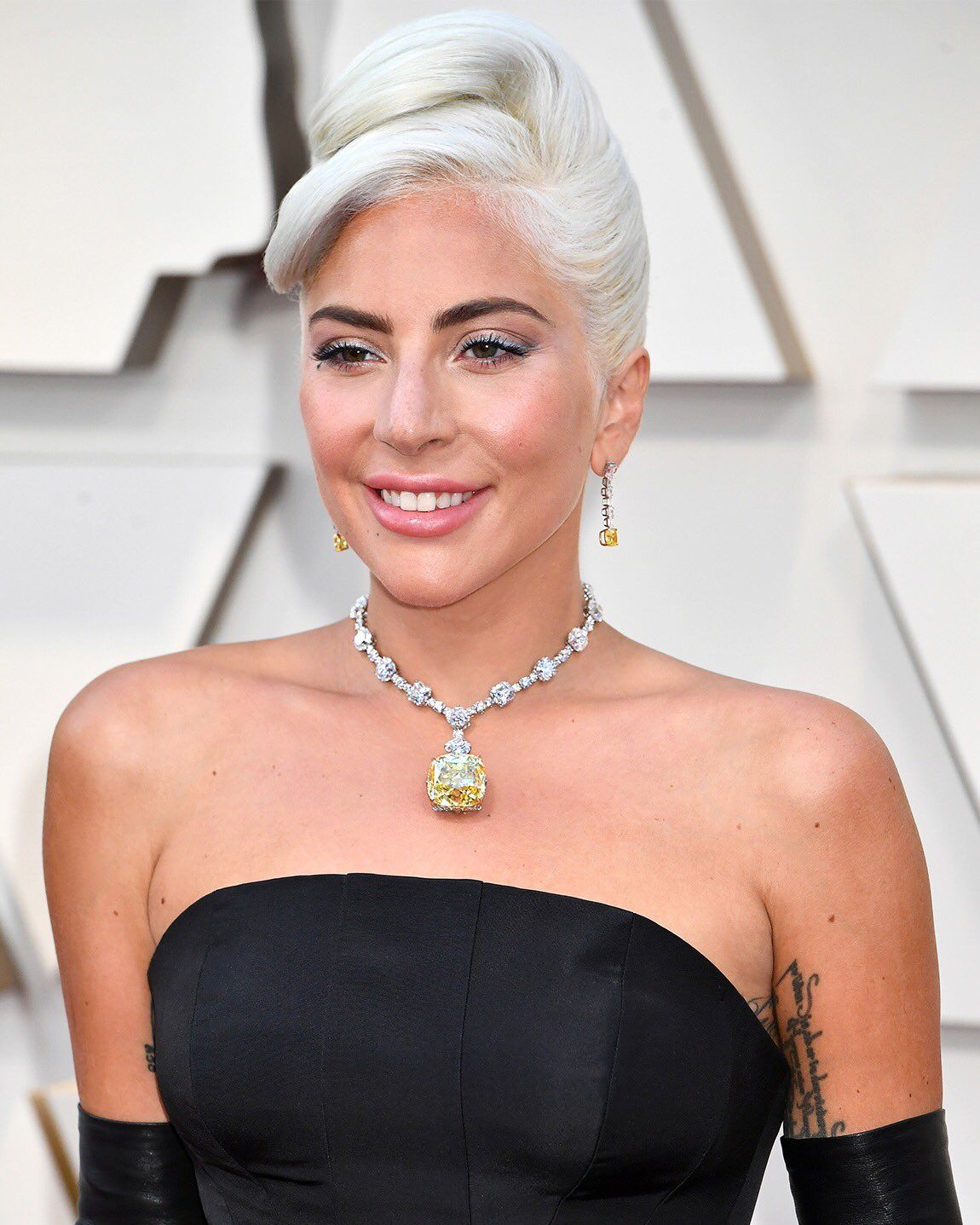 Other than taking home her first Oscar for Best Original Song for "Shallow" with Bradley Cooper, A Star Is Born (2018) actor Lady Gaga also made sure to leave the jewellery world in awe with her 2019 Oscars look. The highlight of it was a USD 30 million Tiffany & Co. yellow diamond necklace — the most expensive jewel to be ever worn to the Academy Awards, as per various reports.
Before Gaga, the 128.54-carat majestic Tiffany diamond necklace was worn by Audrey Hepburn during Breakfast at Tiffany's promotion in 1961. This also makes it one of the largest yellow diamonds in the world, according to Tiffany & Co.
Discovered in South Africa's Kimberley diamond mines in 1877 by the company's founder Charles Lewis Tiffany, the necklace was also worn by Beyoncé in About Love (2021), an Emmanuel Adjei directorial released on YouTube by Tiffany and Co.

Shop Tiffany & Co. Pieces Here

Gloria Stuart and the 'Heart of the Ocean'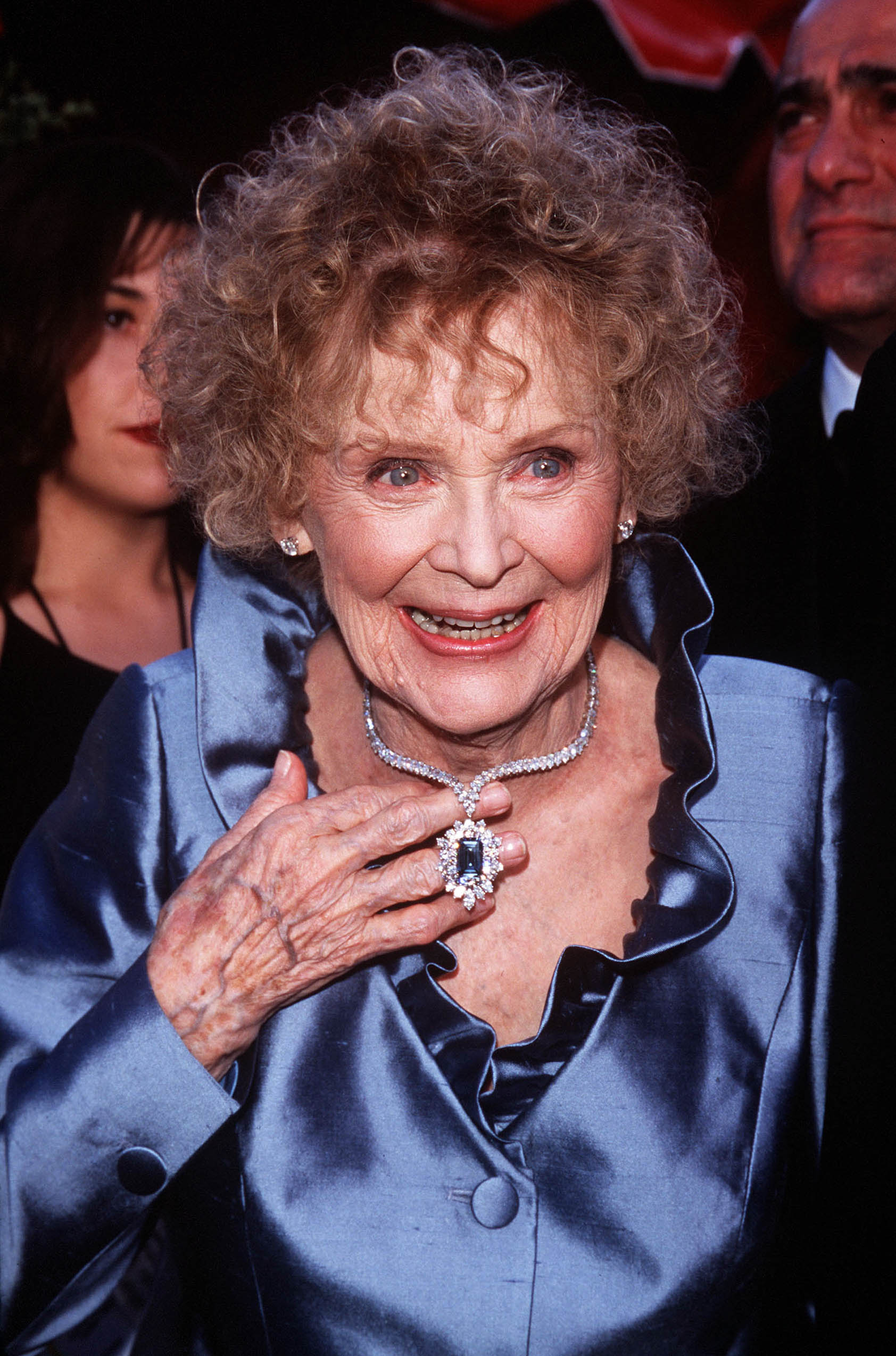 American luxury jeweller Harry Winston's take on Titanic's (1997) 'Heart of the Ocean' seemed to have outshone any other previous versions of the necklace after star Gloria Stuart (who played the older Rose in Titanic) wore the 15-carat blue diamond piece for the 1998 Academy Awards. Stuart was nominated for Best Supporting Actress at the age of 86 for her role in the movie.
Also known as Le Cœur de la Mer, the fictional blue diamond worn by Rose has multiple similarities to a real one — the 'Hope' diamond. And Harry Winston, with the help of the same, recreated the famous pendant for a cost of USD 20 million then.
The piece was around 10 times more expensive than the 'Heart of the Ocean' replica necklace worn by Canadian singer Celine Dion on the same Oscars red carpet.
Madonna in Harry Winston jewels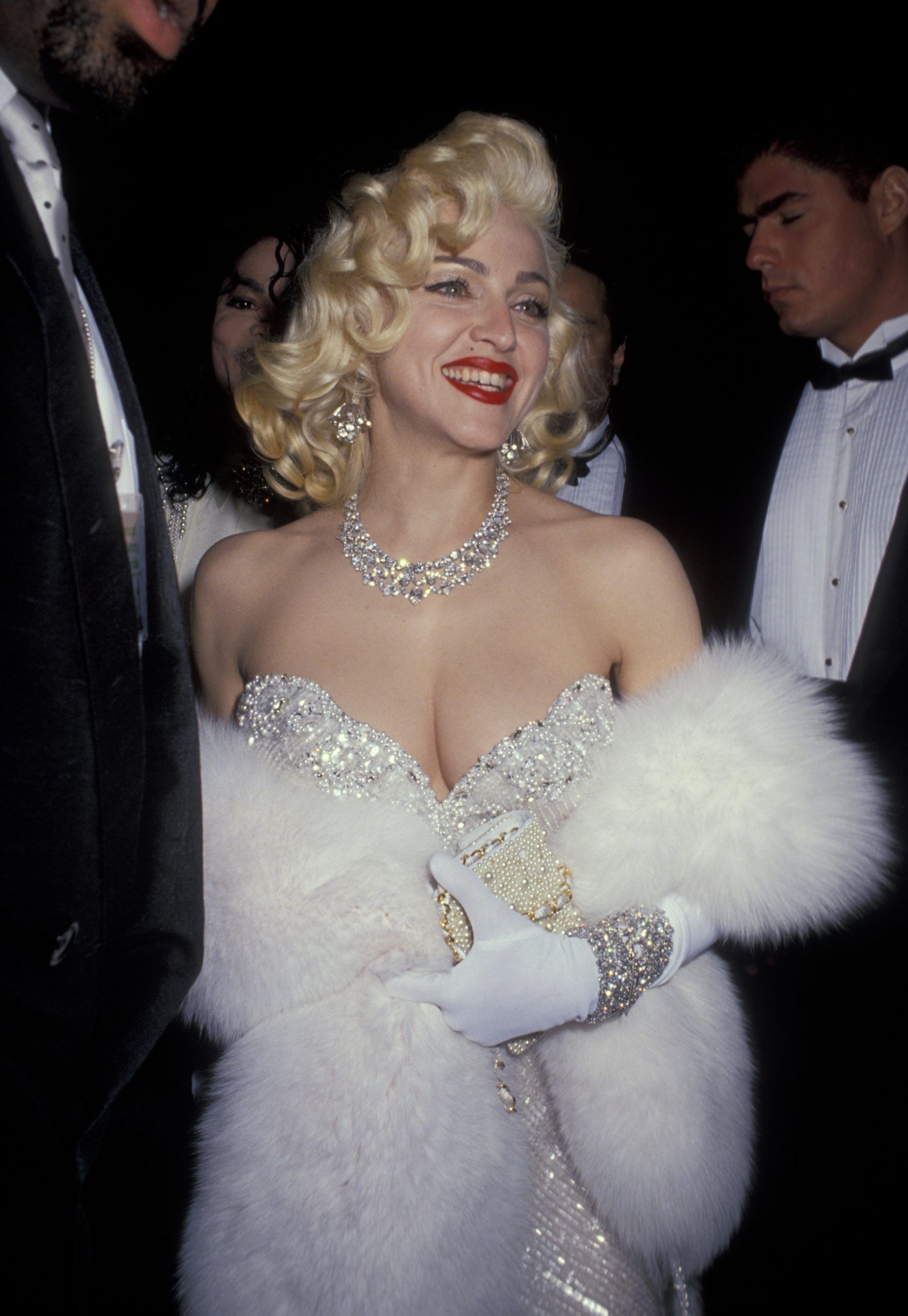 Madonna's über-expensive look consisting of USD 20 million worth of Harry Winston gems was the one of main highlights of the 1991 Oscars. Her jaw-dropping cluster necklace with mixed cut diamonds set together in platinum along with matching earrings and bracelets undoubtedly made heads turn on the red carpet.
The artist, who paid tribute to Marilyn Monroe in an old Hollywood-inspired Bob Mackie gown, made a special appearance at the award ceremony along with Pop king Michael Jackson and delivered a much-anticipated performance on the Oscar-nominated song "Sooner or Later."
Cate Blanchett's Chopard ensemble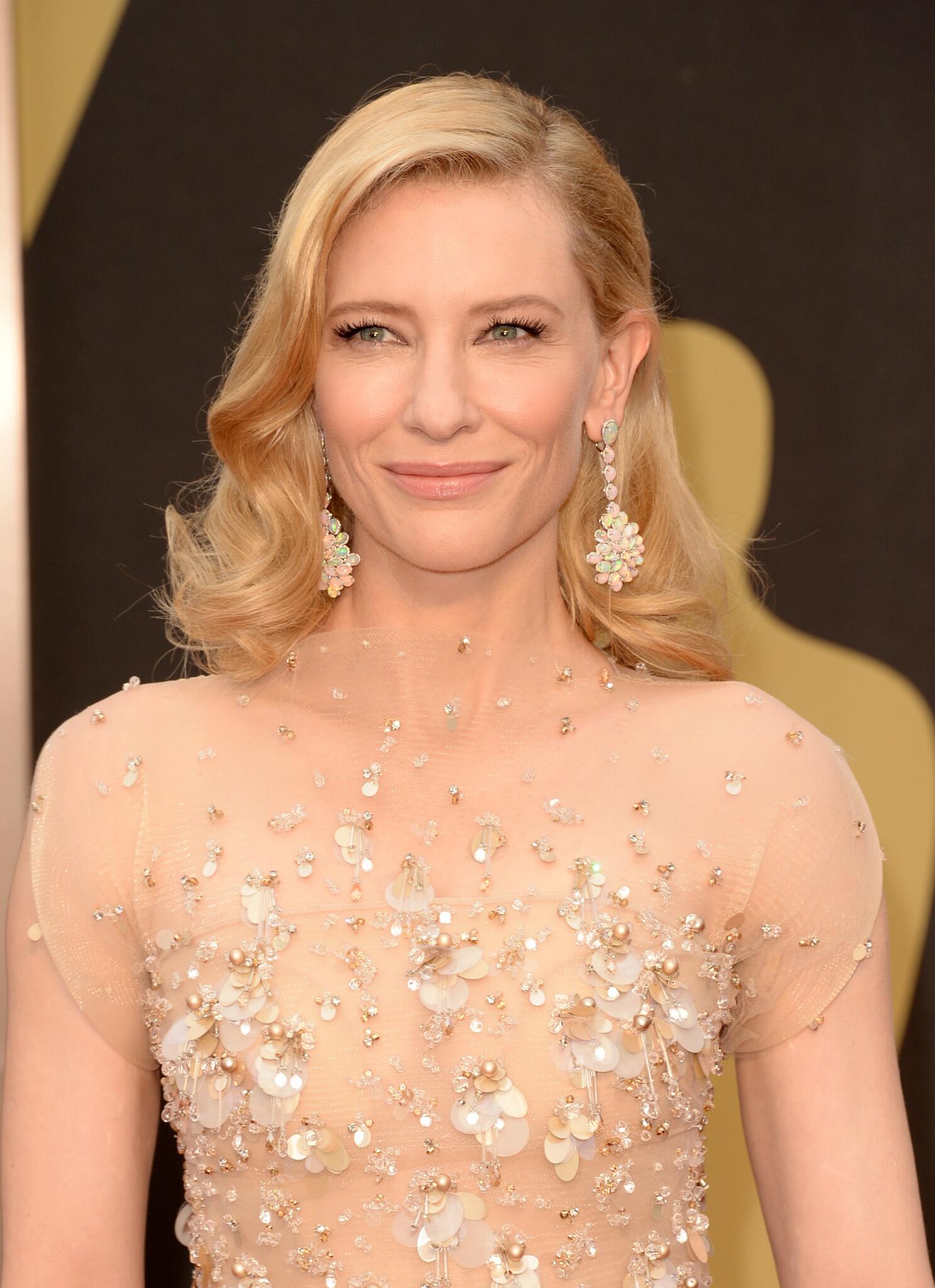 Tár (2022) star Cate Blanchett accepted her 2014 Oscars draped in Chopard gems — a pair of drop earrings with 62 white opals in 33-carat diamond pavé from Chopard's 2014 Red Carpet Collection, perfectly complimenting her white gold aesthetic.
Blanchett also topped off her look with a 49-carat brown diamond bracelet and toi et moi style pear-shaped 4-carat diamond ring from the Swiss luxury retailer.
The actor's Oscars red carpet jewellery pieces were set in 18k white gold and amounted to USD 18.1 million.
Diamond bling for Anne Hathaway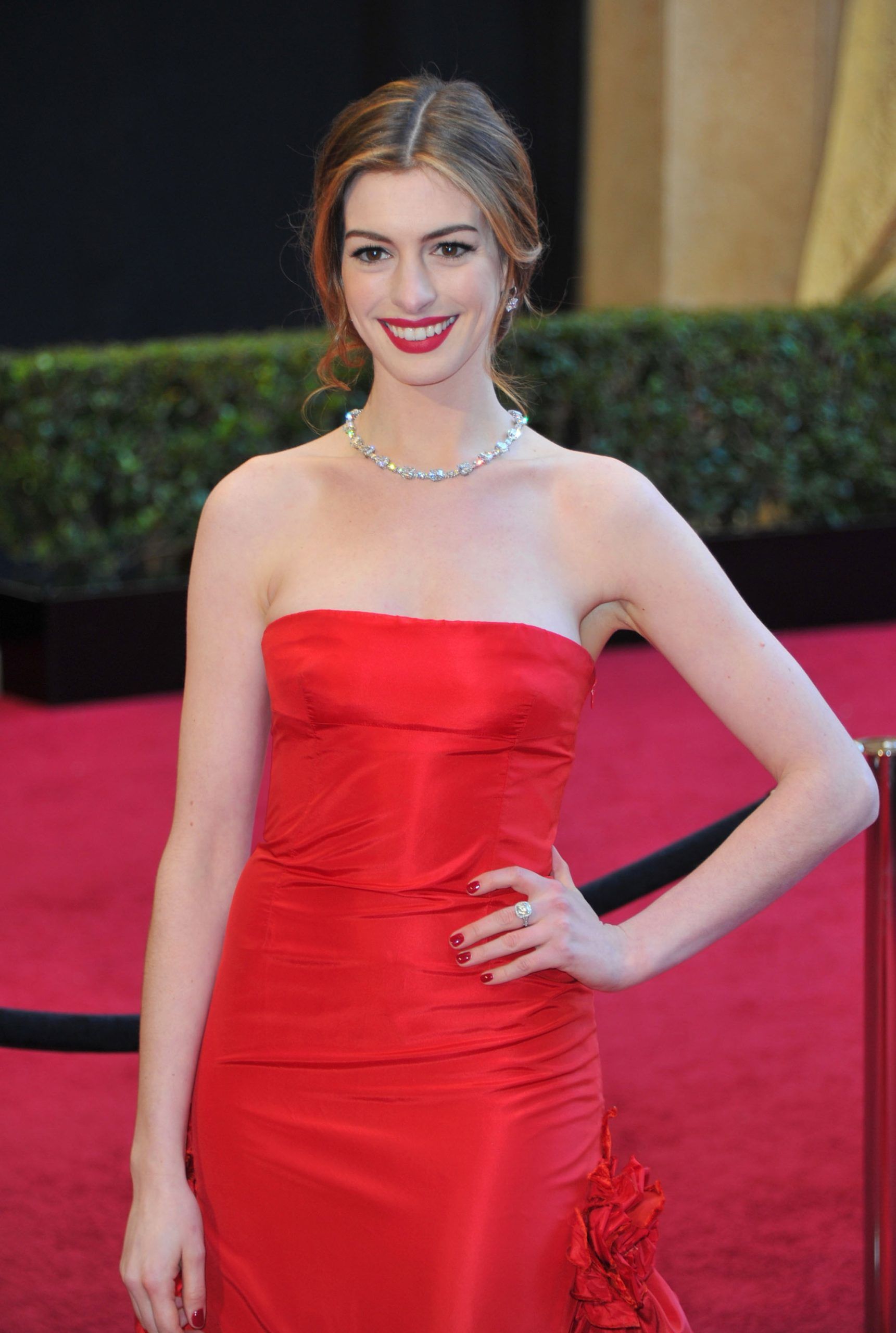 One of the two hosts of the 2011 Academy Awards ceremony, Anne Hathaway, was a vision on the red carpet with her Lucida Star diamond necklace by Tiffany and Co. valued at USD 10 million.
According to CBS news, the American actor was paid USD 750,000 to exclusively wear Tiffany and Co. jewels throughout the Oscars evening that year.
One of the most expensive jewellery pieces ever worn by celebrities, the 94-carat necklace was paired with matching earrings and a 5-carat diamond ring from the brand.
Hathaway also resorted to her favourite Tiffany and Co. for her 2013 Oscars look, where she was seen wearing an expensive Tiffany diamond necklace from their 2013 Blue Book Collection.
Gaga's gorgeous tryst with Lorraine Schwartz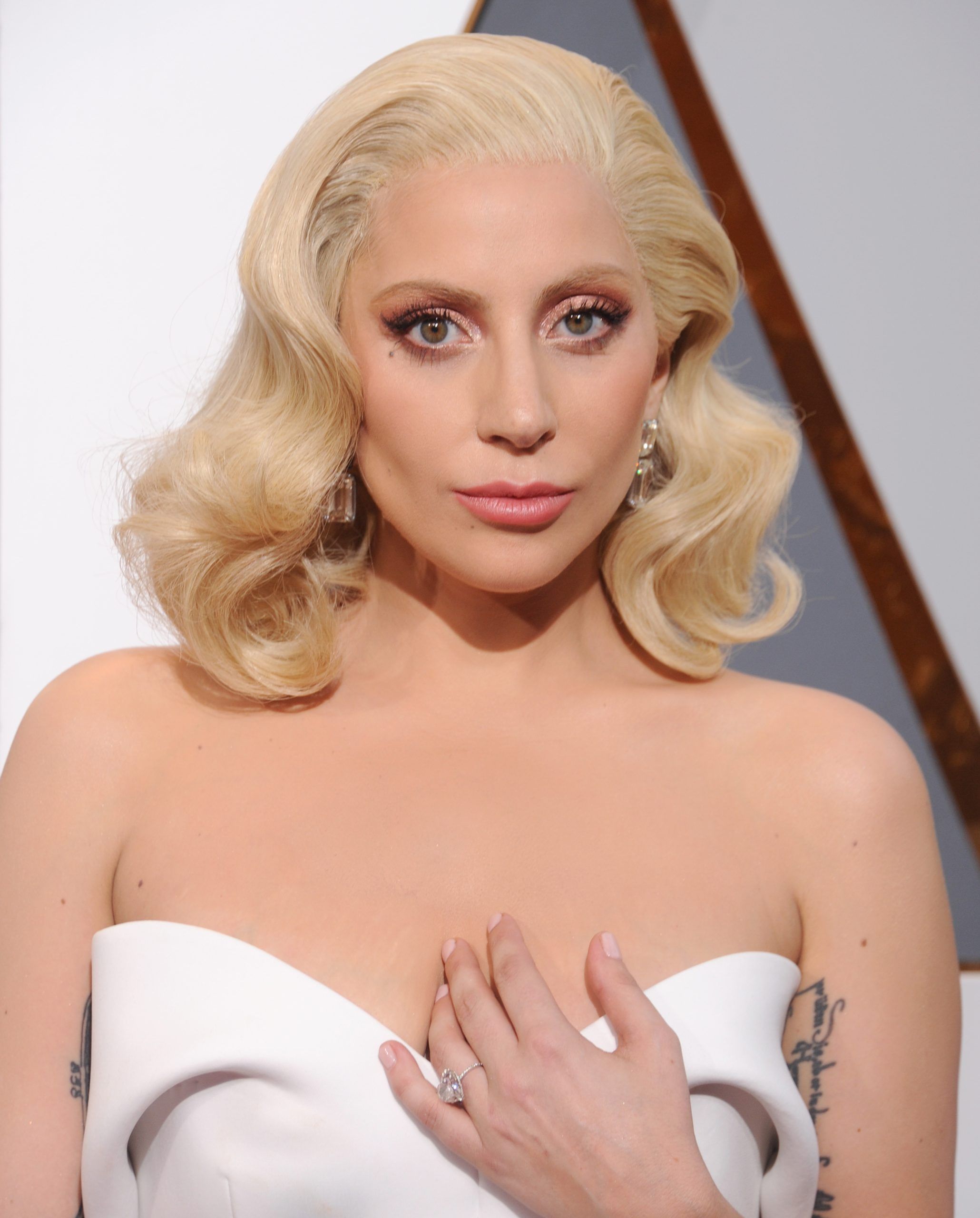 The 2016 Oscars saw statement diamond earring sets quickly emerge as the trend du jour and Lady Gaga was one of the many celebrities who turned heads with a pair of diamond earrings worth USD 8 million.
The 80-carat, pear-shaped diamond drops were from American designer Lorraine Schwartz, who also made Gaga's iconic heart-shaped diamond engagement ring in 2015.
When Nicole Kidman dazzled in 7,500 diamonds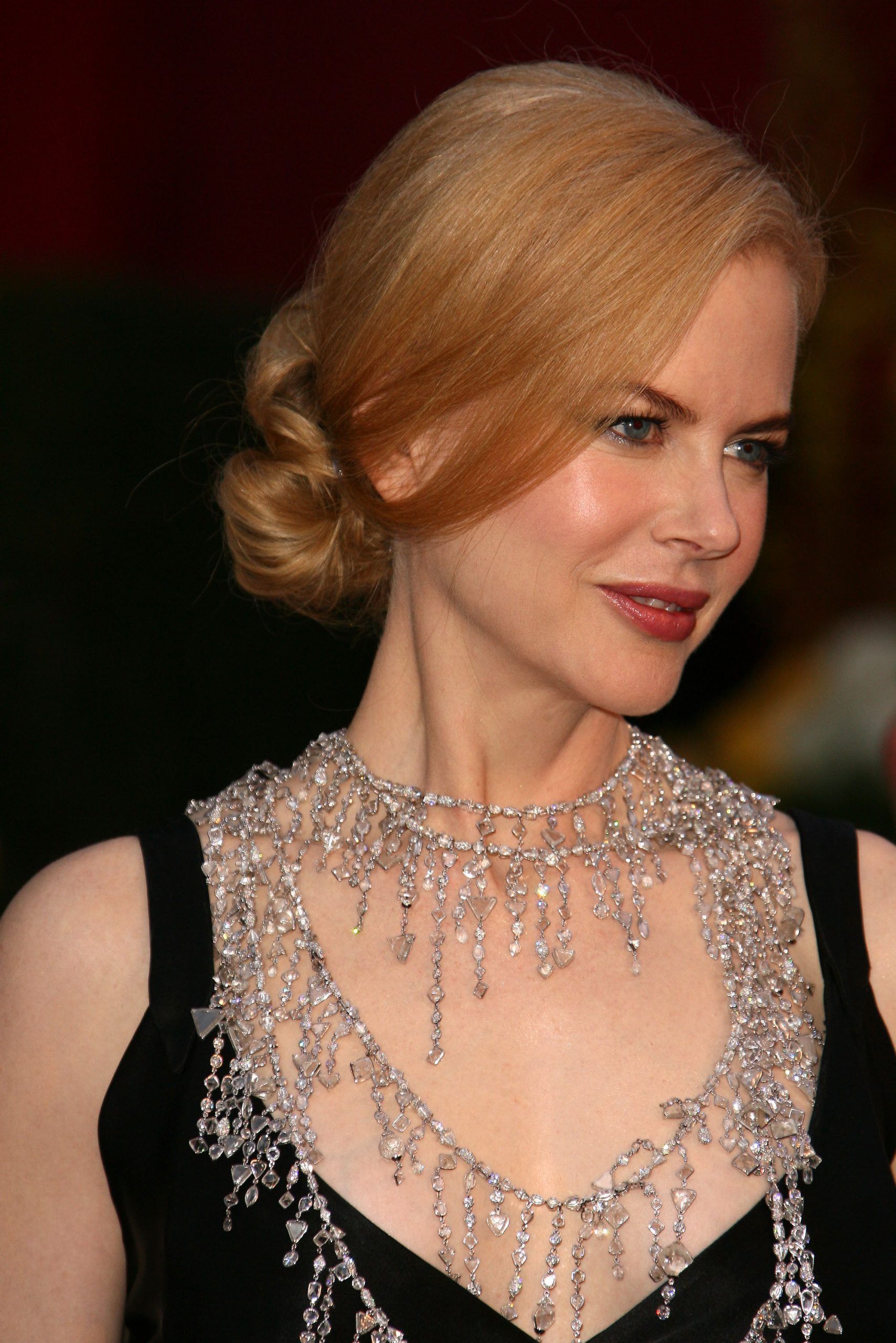 Actor-producer Nicole Kidman's share of great jewels at the Oscars 2008 ceremony include the sautoir-style necklace designed by Kidman's then stylist, the late L'Wren Scott.
Priced at USD 7 million, the piece made with handcrafted chains in a drip effect required 7,500 diamonds and 6,200 hours of labour.
The 1,399-carat necklace is regarded as one of the most expensive jewels to be ever worn on any red carpet.
Sandra Bullock in gorgeous diamond leaf-effect earrings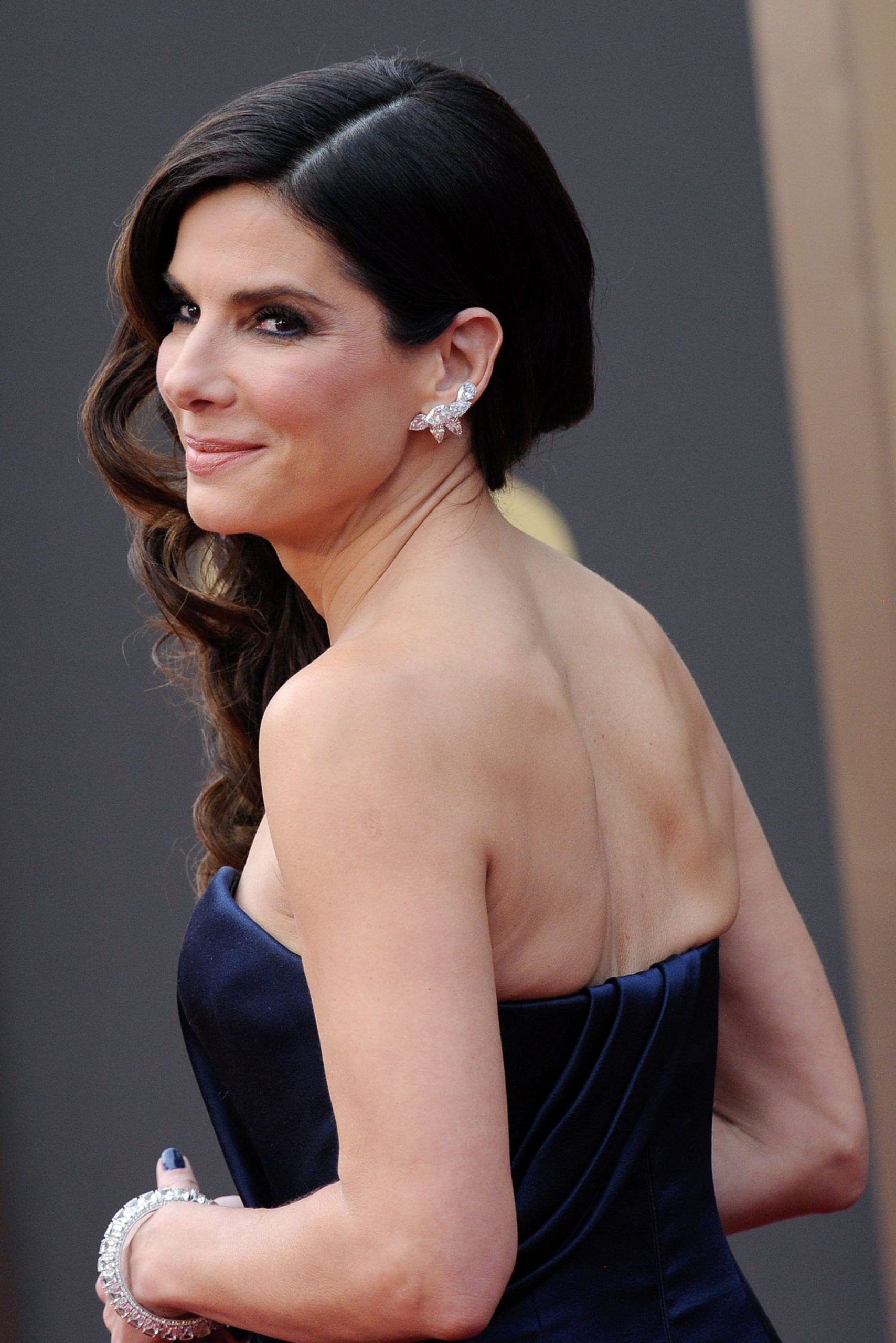 Academy Award-winning actor Sandra Bullock's Lorraine Schwartz earrings (USD 1.8 million) and bracelet (USD 6.4 million) for the 2014 Oscars, make for some of the most expensive jewellery pieces to ever be worn by a celebrity at an award ceremony.
Lorraine Schwartz's diamonds speak for themselves and her creation for Bullock was no exception. The stunning sparklers were the perfect compliment to the actor's sophisticated royal blue gown by Alexander McQueen.
Priyanka Chopra's Lorraine Schwartz diamond earrings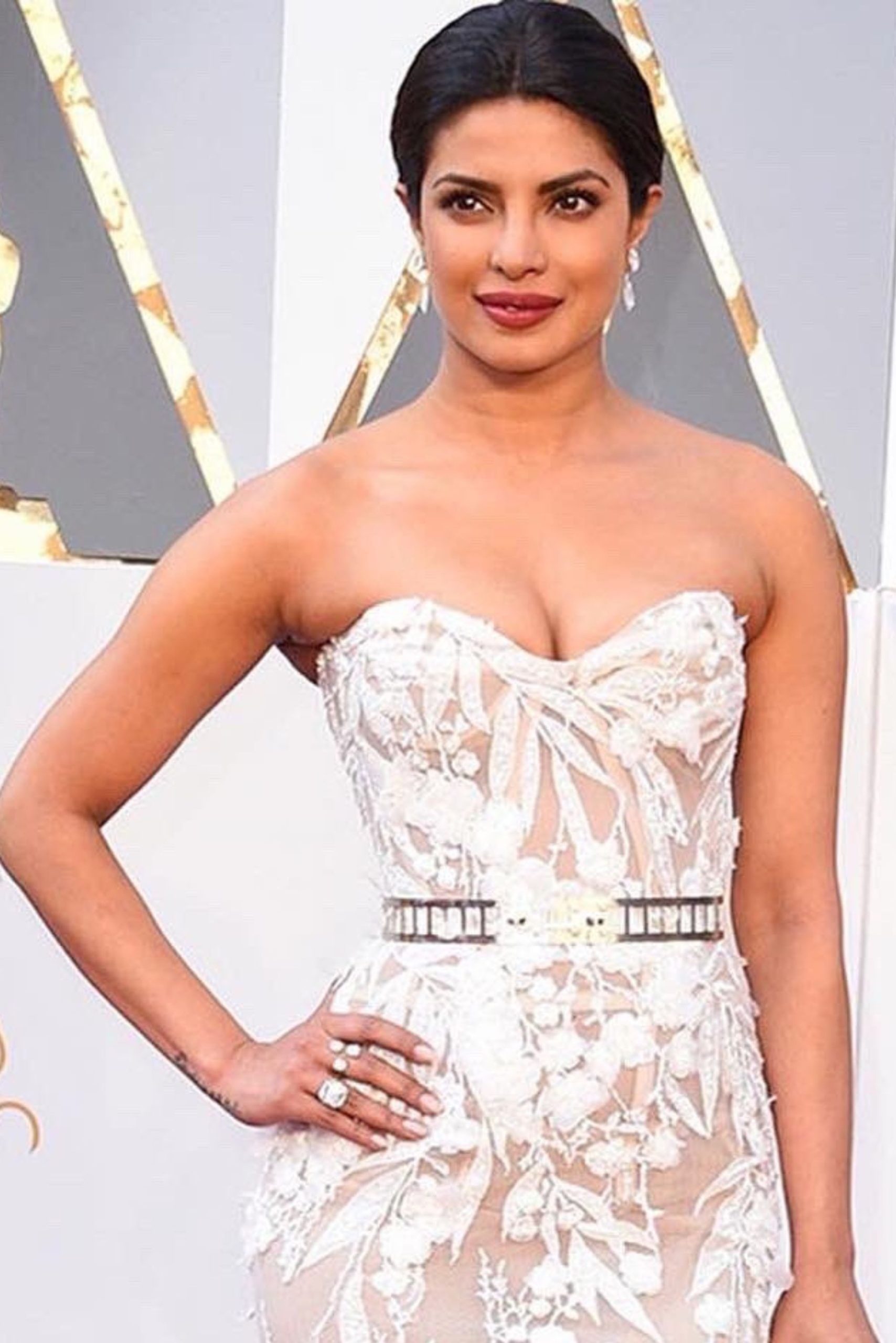 Global diva Priyanka Chopra graced the 2016 Oscars sporting some of the most expensive jewels ever worn by celebrities, courtesy of none other than Lorraine Schwartz.
A pair of 50-carat diamond earrings (USD 3.2 million) with the teardrop section behind her earlobes, and three rings totalling 40 carats that included one 22-carat statement piece (USD 3.4 million), completed her look.
Jennifer Lawrence in Neil Lane couture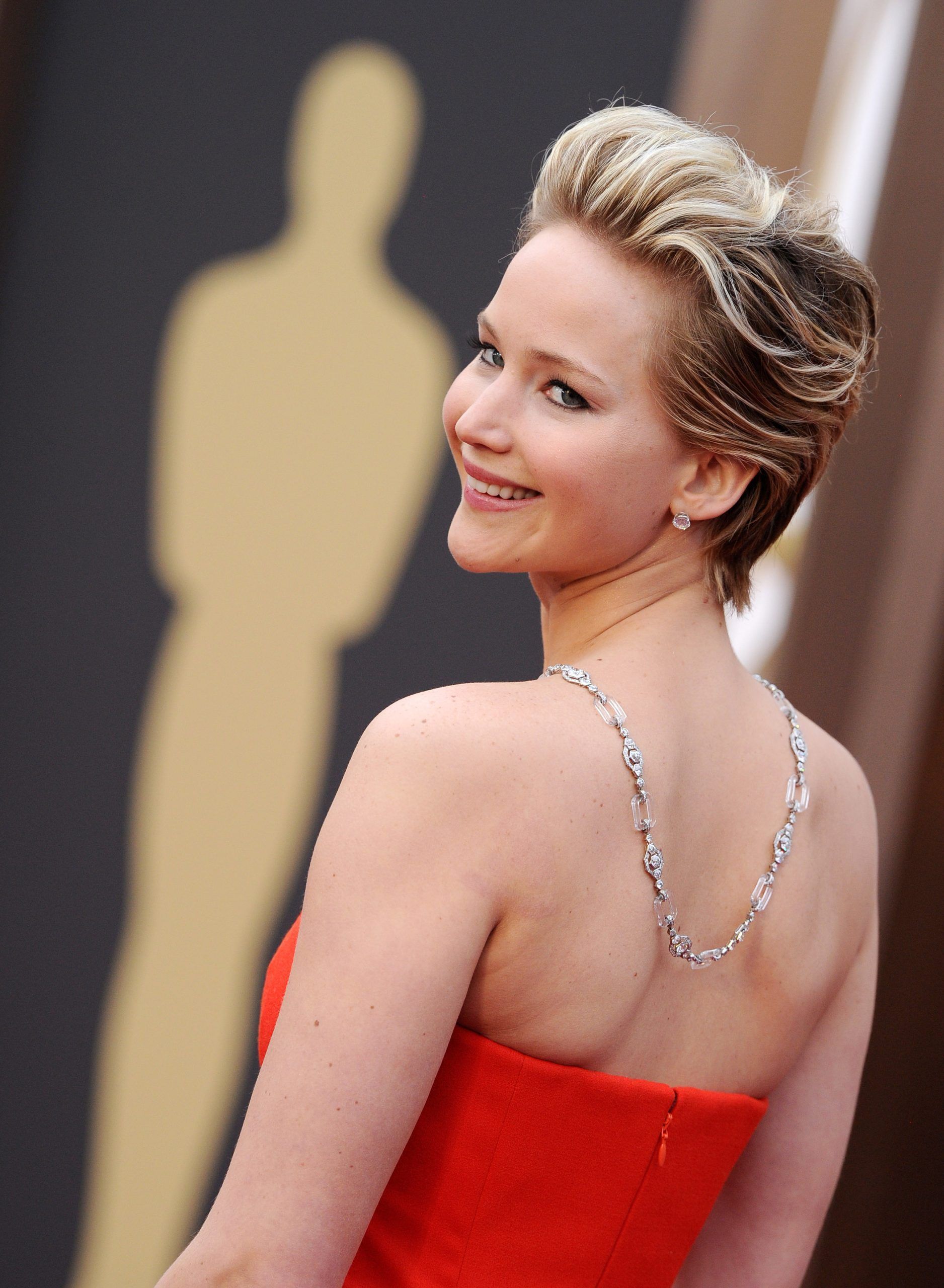 Silver Linings Playbook (2012) star Jennifer Lawrence attended the 86th Annual Academy Awards in 2014 wearing a USD 2 million Neil Lane crystal, diamond (100 carats) and platinum necklace that gracefully hung down her back.
Additionally, her matching jewels — the Neil Lane platinum-diamond ring set (three-coloured) and the 10-carat diamond stud earrings' had an estimated value of around USD 1 million.
In a 2014 Popsugar interview, designer Neil Lane talked about his process of coming up with a red carpet jewellery piece and said, "There's definitely not a set process, but usually the focus is on the whole red carpet look, whether it's classic and minimal with just a few simple but gorgeous diamond pieces to finish the look or a bold statement that really centers on that "wow" piece of jewellery that brings the entire look to life."
When Kate Winslet glowed in yellow diamonds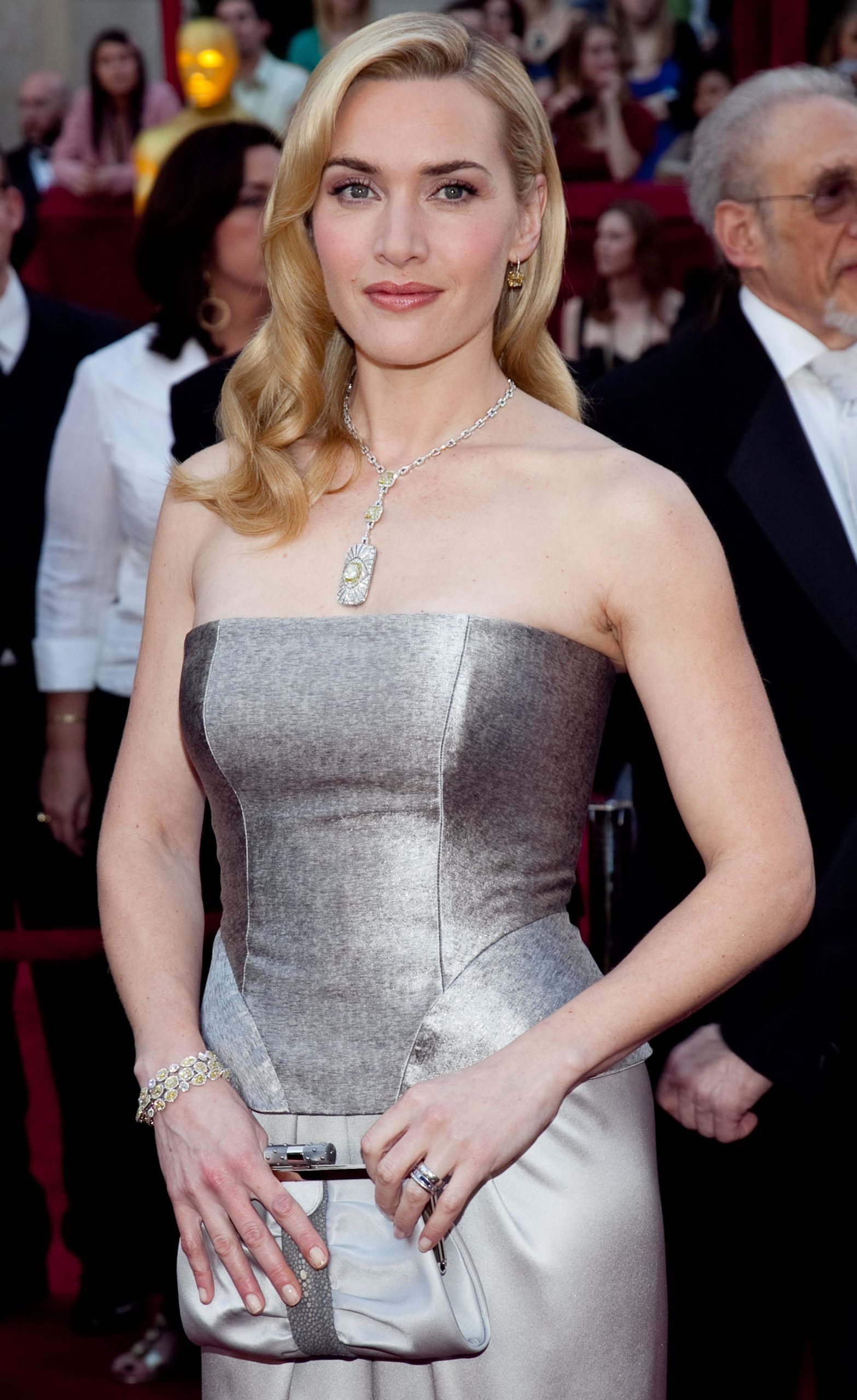 Kate Winslet, who is currently basking in the success of James Cameron's Avatar: The Way of Water (2022), is one of the few celebrities who has time and again proven her immaculate fashion sense on the red carpet of Hollywood's most glamorous night.
For her 2010 Oscars appearance, Winslet chose a rare yellow diamond necklace by Tiffany & Co. with matching canary diamond earrings and bracelets. The USD 2.5 million necklace was an Art Deco-inspired piece with a 13.09-carat triple-drop pendant of a canary diamond.
Her earrings and bracelets had an estimated cost of USD 975,000.
When Timothée Chalamet created history in Cartier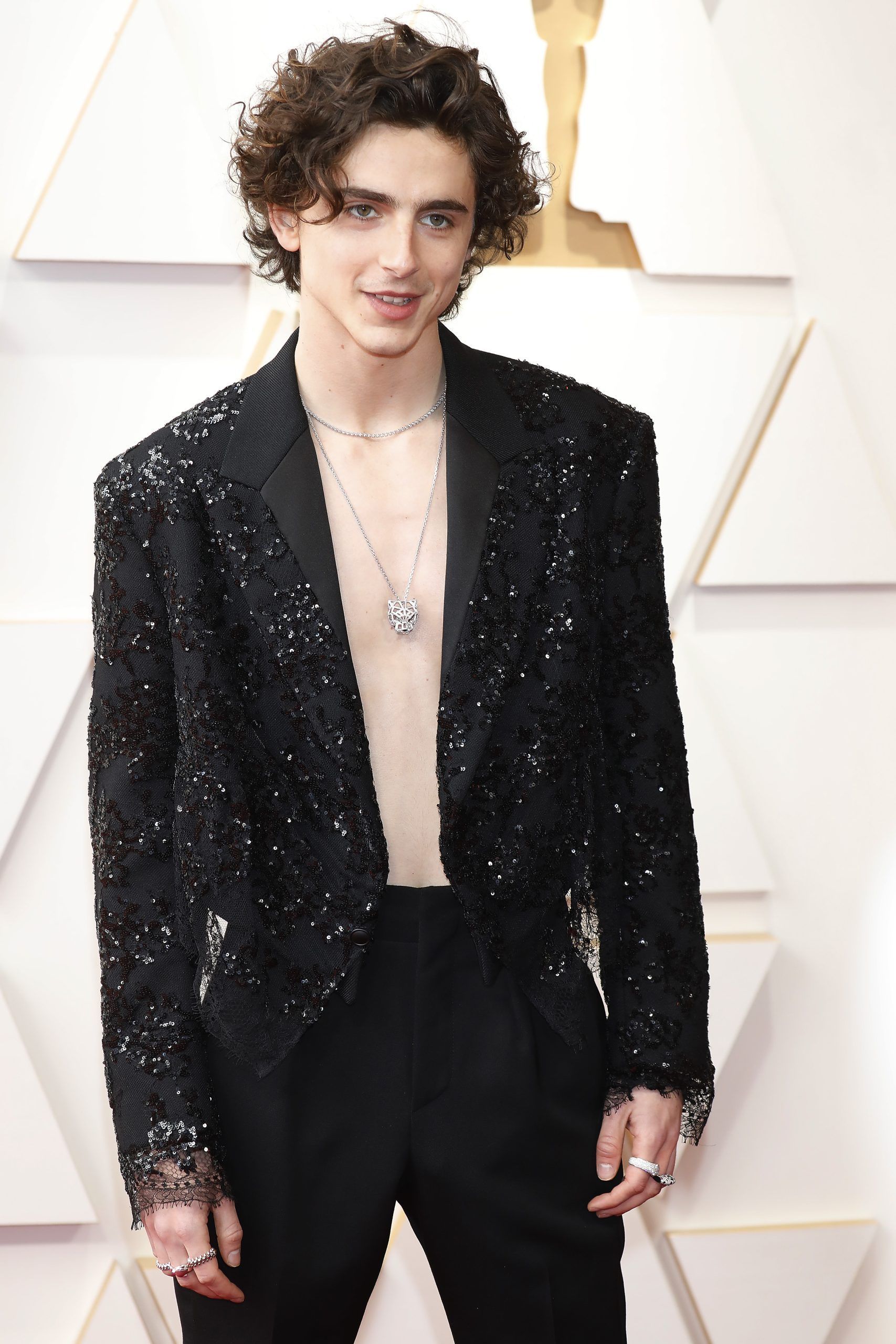 Timothée Chalamet is undoubtedly reimagining menswear in a new light. Donning an almost avant-garde androgynous look for the 2022 Oscars, Cartier's 'Friend of the House' Chalamet went for a Panthere de Cartier necklace encrusted with emeralds and onyx. A fine 'Geometry & Contrast' necklace too, adorned his neck beautifully.
Panthere de Cartier is an exquisite masterpiece in 18k white gold. With 135 brilliant-cut diamonds totalling 1.15 carats, the necklace is priced at USD 25,000.
The Cartier 'Geometry & Contrast' Art Deco-inspired necklace is set with a trapezoid-shaped diamond and 145 brilliant-cut diamonds (6.25 carat). Costing USD 68,500, the necklace comes with a detachable motif that can be turned into a brooch when desired.
Chalamet completed his look with multiple diamond rings from the brand and was one of the few celebrities to be picked by The Hollywood Reporter and Vogue for the best red-carpet fashion at the 2022 Oscars.
(Main image: Lady Gaga/Twitter; Featured image: Axelle/Bauer-Griffin /FilmMagic/Getty)
Related Posts